From the world's toughest track to one of the world's most famous turns, the WTCR – FIA World Touring Car Cup presented by OSCARO is Zandvoort-bound this week (19-21 May) where the famous Tarzan corner awaits.
Immortalised by Gilles Villeneuve following his heroic overtaking manoeuvre on Alan Jones at the 1979 Dutch Grand Prix, Tarzan – Zandvoort's first, cambered corner – is the place to pass and be passed. "You can go easily with three people side by side," says Dutch WTCR racer Tom Coronel.
Coronel will be one of three home-grown drivers on the WTCR OSCARO grid. Wildcards Prince Bernhard van Oranje and Michael Verhagen join him for the seaside triple-header, which forms part of the Jumbo Racedagen bill featuring demo runs by the county's Red Bull Formula One star, Max Verstappen.
While Verstappen's every move will be cheered by the partisan fans, the all-action WTCR OSCARO races will captivate the 100,000 spectators expected for the three-day event. Everything takes place over the Whitsun bank holiday weekend.
Monday's races are live on Eurosport, while Sunday's race will be live atwtcr.oscaro.com and the FIA WTCR/OSCARO Facebook page depending on local availability and restrictions.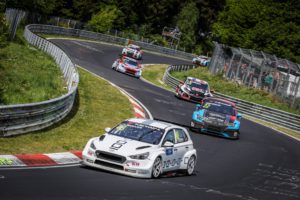 Muller leads WTCR to Zandvoort
Yvan Muller will top the WTCR when the all-action series resumes at Zandvoort. Muller, a record-breaking four-time World Touring Car champion, holds a 19-point advantage over erstwhile title pacesetter Gabriele Tarquini, who crashed twice at the Nurburgring Nordschleife last weekend. But while Tarquini suffered a weekend of woe. His fellow Hyundai i30 N TCR driver bagged a win and a third place in Germany on his first season back following his year-long retirement, while team-mate Thed Björk won Race 3.
"It was not really our target to come back but for my team I did it and I can only be pleased of [the decision]," said the French legend. "We did two victories and two two pole positions, it was the perfect weekend for the team." Björk's success in Germany, meanwhile, has propelled the Swede to third in the table with Norbert Michelisz fourth and Yann Ehrlacher fifth. In the battle for the Teams' title, YMR now tops BRC Racing Team with ALL-INKL.COM Münnich Motorsport third. Sébastien Loeb Racing and Audi Sport Leopard Lukoil Team complete the top five.
Prince Bernhard van Oranje is one of two wildcards for WTCR Race of Netherlands. The Dutch royal family member is an experienced racer and owner of Circuit Zandvoort. The 48-year-old will drive a Bas Koeten Racing Audi RS 3 LMS. "It is unique to participate in a World Cup event against eight former world champions," said Prince Bernhard van Oranje. "It's ultra-close racing and we have live coverage on TV and web throughout the event. With more than 100,000 fans it's going to be a unique experience."
… and so is Verhagen
Dutch racer Michael Verhagen will get the chance to shine on a global stage when he contests his home WTCR round. Like fellow wildcard Prince Bernhard van Oranje, Verhagen will drive a Bas Koeten Racing Audi RS 3 LMS. Currently campaigning a BMW M4 in the Dutch Supercar Challenge series, Verhagen, 30, has experience of TCR machinery from the TCR Benelux and Germany competitions, including with Bas Koeten Racing at Zandvoort last season.
Volunteers celebrated at WTCR Race of Netherlands
The vital role of volunteer officials will receive recognition at WTCR Race of Netherlands as part of FIA Volunteers Weekend, which showcases the essential work of those people who give up their time to ensure motorsport events around the world take place. WTCR drivers will acknowledge the volunteers by participating in a number of promotional activities. There will be such events at other FIA events over the weekend including Rally de Portugal and the Berlin E-Prix.
Orange @FIA_WTCR monster for Bernhard van Oranje and Michael Verhagen this weekend at Zandvoort.@audisport @CPZtweets pic.twitter.com/b6TQzS2Oel

— Bas Koeten Racing (@BasKoetenRacing) May 16, 2018