This is what leading WTCR OSCARO drivers have had to say about Circuit Zandvoort, venue of WTCR Race of Netherlands.
Tom Coronel (Boutsen Ginion Racing):
"It's a very important and special weekend because there are so many motorsport fanatics in Holland at the moment with Max Verstappen so hot. It will be very good for our championship to be part of the Jumbo Racedagen but Zandvoort is also very good for racing, overtaking and different styles of lines. I've always seen good fights at this track, it's a historical track, the elevation is there, there are high-speed corners and there's Tarzan of course, the first corner, where you can go easily with three people side by side and that's just one corner where this is possible. I was an instructor at the racing school and was driving there nearly every day. In every category I won races, Formula Ford, Opel Lotus, Formula 3, touring cars, GT cars, doesn't matter I won races."
"It's a pity they resurfaced the track because there was a much bigger chance of me having an advantage before when I knew every bump. Last year there was a new surface so there is a small question mark. But Zandvoort is the real focus for me this year and Honda Benelux will be doing a lot with the dealers."
Zandvoort time ?? home race of local hero: @TomCoronel ? Are you ready for it ? ? pic.twitter.com/JH1bRxR6jO

— BOUTSEN GINION (@BoutsenGinion) May 17, 2018
Denis Dupont (Audi Sport Team Comtoyou/RACB National Team driver):
"It's going to be very tight, always with hard racing and pretty exciting too. I have raced there two times so I know the track quite well. Once I won, the other time was not so good after a bad weekend. You can always expect some rain in Zandvoort because it comes easily and the weather always changes. I was there for the Jumbo Racedagen last year when Max Verstappen was also there. There was a massive amount of people, it was just crazy but really nice to race in front of such a big crowd."
"Being from Belgium, if I have to name a home race then it's this one and it will the best moment to be there. We had a test at Zandvoort in March. It was only in the rain and it was cold also but it was good to get back to knowing the track again."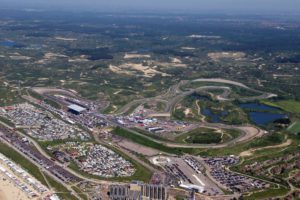 Benjamin Lessennes (Boutsen Ginion Racing):
"Zandvoort will be the only track this year that when I arrive there I will have a base [knowledge and set-up] because all the other tracks are and will be new to me. Of course, this will be an advantage but we know the Honda was not always the fastest in the past there so we will have to work a lot although I am really confident. I'm happy going to Zandvoort because it's a track I know but I like fast tracks and Zandvoort is not exactly a fast track. Because I know the track I have to be really focused and make no mistakes. It will be a hard job but there is no pressure. I am only 18 so first I am here to learn, do a good job and keep the car of Tiago Monteiro on track but also try to make the podium quickly."
"I won there in the World Touring Car Championship in 2007 and the time before then was in 1985 when I raced in Formula 3000, my first time there. I remember the first corner, Tarzan, which is still the same but I know the rest of the track is not the same and I honestly have totally forgotten what I experienced in 2007. For the rhythm, it's good to be doing back-to-back races after Germany rather than stopping for a long time and going again, which can happen during the season. But because it's close I still get the chance to go back to home in Italy, spend a few days with my family before coming back and starting again."
Zandvoort in 100 words
The most northerly venue on the 2018 calendar, the inclusion of Zandvoort on the WTCR roster for the Jumbo Racedagen featuring Max Verstappen, brings world touring racing back to The Netherlands for the first time since 2007. And the timing of the race couldn't be more appropriate with 2018 marking the circuit's 70th anniversary. Once home to the Dutch Grand Prix, Zandvoort's motorsport roots go back to 1939 when a street race was organised in the seaside town. It was the catalyst needed for the mayor to invest in a permanent track, construction of which began following World War II.
#TBT ? My best memory from Circuit #Zandvoort… WINNER Masters Formula 3 in 1997! ? ? ?
Ready for my home #FIA #WTCR race at Zandvoort this weekend ??? pic.twitter.com/FLPKoCVej0

— Tom Coronel (@TomCoronel) May 17, 2018
Who's on the grid?
World Touring Car champions: Thed Björk, Rob Huff, Yvan Muller, Gabriele Tarquini
WTCC Trophy winners: Mehdi Bennani, Tom Coronel, Norbert Michelisz
WTCC race winners: Yann Ehrlacher, Esteban Guerrieri, Gianni Morbidelli, Pepe Oriola
British Touring Car champions: Fabrizio Giovanardi, Gordon Shedden, James Thompson
TCR title winners: Aurélien Comte, Benjamin Lessennes, Jean-Karl Vernay
Young racing hopefuls: Denis Dupont, John Filippi, Mato Homola, Norbert Nagy, Aurélien Panis, Zsolt Szabó
International racers: Nathanaël Berthon, Frédéric Vervisch
Wildcards: Prince Bernhard van Oranje, Michael Verhagen
Yesterday taxi story in ??
Taxi:"Here for business?"
Me:"No,racing in Zandvoort this week end in the @FIA_WTCR !"
Taxi:"Nice! Wish you the best, hope you will finish P2!"
Me:"Thanks mate but why only P2??"
Taxi:"Because @TomCoronel is the best he will be P1!
Here we are ??!

— Yann Ehrlacher (@YannEhrlacher) May 17, 2018
Five to watch
1 Tom Coronel: The hugely popular, hugely charismatic Dutchman will be hoping for a big haul of points at his home race having endured a challenging start to his WTCR campaign in his DHL-backed Honda.
2 Frédéric Vervisch: With points – and podiums – now in the bag following a strong WTCR Race of Germany weekend on the back of a difficult opening sequence of races, Dutch-speaking Belgian Vervisch heads to Zandvoort on a high for Audi Sport Team Comtoyou.
3 Benjamin Lessennes: His fourth place in Race 3 at the Nürburgring Nordschleife, a track he'd never driven on previously, underlined his potential. And while learning is key for the 18-year-old, Zandvoort is the only venue on the calendar where he's raced at previously, so expect big things.
4 Norbert Michelisz: Several top drivers lost ground in the WTCR OSCARO title race in Germany last time out. Norbert Michelisz was one of them and he will be keen to make amends at Zandvoort where he was a winner in TCR Benelux in 2016.
5 Gordon Shedden: Frustrated by his time penalty in Germany, the three-time British Touring Car champion will be eager to put on a strong showing for Audi Sport Leopard Lukoil Team at a venue where he tested back in March.
My teammate? is sleeping during our test session in Belgium ? Wake up boy, the Dutch crowd is waiting for you in #Zandvoort ?? Testing day in Zolder ?? #WTCR #RoadToRecovery pic.twitter.com/CLeXpvwPQN

— Tiago Monteiro (@Tiagosworld18) May 17, 2018