Unusually for a Scandinavian, Esapekka Lappi began racing competitively on tarmac through karting, at just six years old. He answered a few questions as he talked to the Citroen press office about his special relationship with driving on asphalt.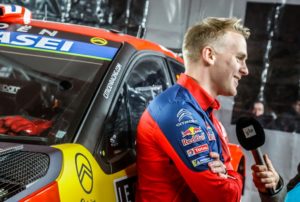 It's pretty unusual for a Finnish rally driver to have begun in karting…
"Yes, that's true! When I was six years old, I wanted to follow in my older brother's footsteps and have a go. I did it more and more, and I kept racing until I was sixteen. Among the Finnish rally drivers to have burst onto the scene recently, I was the first to have followed this path. Since then, there has also been Teemu Suninen, with whom I used to be team-mates, but also Kalle Rovanperä and Jari Huttunen."
Why did you end up switching to rally driving?
"At the time, I dreamed of becoming a F1 driver, but ultimately, I'm very pleased with how things have worked out! I was Finnish champion in 2007 at the highest level at the time and I also competed in the European championship, but I stopped because there were no prospects. Continuing to compete in karting or even attempting to compete in the lowest levels of single-seater racing was too expensive. In rallying, you can access the same level for a more reasonable amount of expenditure. The sport also gets coverage on television in Finland, so it's easier to find partners to help financially, whereas nobody knows about the lower categories of circuit racing."
I have always really enjoyed #TourdeCorse and I can't wait to get started. I love driving on clean tarmac like here.
#C3WRC #L4PPI pic.twitter.com/cc1KviMhWs

— Esapekka Lappi Rally (@EsapekkaLappi) March 25, 2019
How do you think your karting experience helps you in rallying?
"At the very beginning, when I started rallying, it was perhaps an advantage mentally speaking, compared with the guys I was competing against at the time. Let's say that I had competitive experience. I knew what it was about and was used to being under pressure to perform. Obviously, with the guys I am competing against now, this is no longer an advantage! However, on events like the Tour de Corse or Rally de España, I think karting helps me to judge the roads really well in recce and find the right lines once the race starts, especially on long corners that open and then tighten again. I think karting has helped fine-tune my sense of where the racing line is."
What memories do have about your three previous appearances in Corsica?
"In 2014, I became European Rally champion here, but I went off the road, so perhaps it wasn't my finest moment! However, despite the puncture on the penultimate stage, last year's rally was one of the highlights of our season."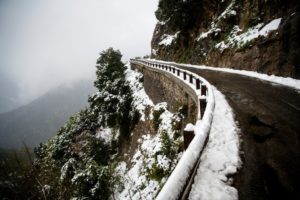 Known as the Rally of 10,000 Corners, the Tour de Corse is one of the most iconic events on the FIA World Rally Championship calendar
Not only is the island event the first pure asphalt rally of the year, but it's also a tough test of endurance, focus and skill with narrow roads than wind their way through the mountains.
This year's route has been heavily revised once again with more than two-thirds of the stage distance differing from last year. The event gets underway in the southern town of Porto-Vecchio and the onus will be on endurance with no service before the return to the Bastia-based service park that evening.
Saturday's action accounts for more than half the rally's competitive distance, and the final day incorporates two tests in the Balagne region before a ceremonial finish in the north-western town of Calvi.
The asphalt may not be as abrasive as it once was, but there remains plenty to catch out the unwary. Pacenotes must be made and delivered with pin-point accuracy as the narrow roads leave little room for error. And this rally can just as easily be won and lost on the pre-event reconnaissance as it can on the stages themselves!
In numbers
14 timed stages covering a total of 347.51 km
133.34 the number of kilometres this year where crews will need to take new pace notes
47.18 km for Castigniccia, the weekend's longest stage, held twice on Saturday's leg
6 overall wins secured by Citroen at the Tour de Corse in the WRC: 1 with Xsara Kit-Car (1999), 3 with Xsara WRC (2001, 2005 and 2006), 2 with C4 WRC (2007 and 2008)
2 for the second year running, Citroën France is the lead official partner of the Tour de Corse.
The 2007 Tour de Corse was crucial in Sébastien Ogier and Julien Ingrassia joining Citroen Racing and in making the step up to the WRC the following year
Here's why…
One of the zero cars at the 2007 Tour de Corse, held in mid-October that year, was a Peugeot 206 Cup backed by the FFSA's Rallye-Jeunes (Young Drivers) initiative and driven by two young men who had yet to make a real name for themselves, Sébastien Ogier and Julien Ingrassia. In only their second season in rallying, they had just won the Peugeot 206 Cup in France with four overall wins, three on gravel (Rallye Terres de Langres, Rallye Terre du Diois and Rallye Terre des Causses) and one on the damp, slippery asphalt roads of the Rallye Le Touquet. Their potential was there for all to see but their future was still undecided.
It was at that year's Tour de Corse that the foundations of their 2008 Junior World championship programme were laid between Citroen Racing, ever faithful to its culture of promoting talented young drivers, and the French Rally Federation. The rest, as they say, is history…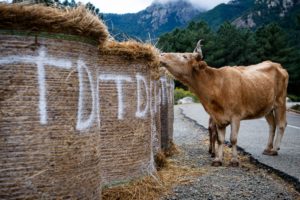 Tour de Corse schedule
(GMT+1 until 30/03, GMT+2 from 31/03)
With the opening leg taking the crews from Porto-Vecchio to Propriano, then heading north on day two towards Castagniccia, Cap Corse and the Désert des Agriates, before finishing next to Calvi, this year's edition of the classic island rally remains faithful to the recently-restored tradition of touring the whole of Corsica.
In addition to the various regions covered, the 2019 Tour de Corse has plenty of other ingredients to make it a serious test. The total competitive distance is now close to 350km (compared with 333.48km in 2018), Friday's leg only has a tyre-fitting zone at the midway point, Saturday features some 174.50km with two runs on the 47.18km-long and especially demanding Castagniccia stage, all rounded off with a longer Power Stage (19.34km) than usual, set against the magnificent backdrop of the Fango valley.
The other major difficulty stems from the fact that more than 62% of the itinerary has been revamped. Of the fourteen stages, only three – Valinco (SS2/SS5, 25.94km), last contested in 2015 , Cap Corse (SS7/SS10, 25.62km) and Désert des Agriates (SS8/SS11,14.45km), both contested last year – are familiar to the current crop of world championship crews. This makes it all the more important for them to get to grips with and take good paces notes on the 133.34 new kilometres in just two passes during recce at a limited maximum speed (80kph). Recce looks set to be every more crucial than usual and will call for unremitting concentration throughout.
Friday 29 March
7.00am: Start Day 1 (Porto-Vecchio)
7.05am: Tyre fitting zone (Porto-Vecchio – 15 mins)
8.29am: SS 1 – Bavella 1 (17,60 km)
9.24am: SS 2 – Valinco 1 (25,94 km)
10.32am: SS 3 – Alta-Rocca 1 (17,37 km)
12.41pm: Tyre fitting zone (Porto-Vecchio – 15 mins)
2.05pm: SS 4 – Bavella 2 (17,60 km)
3.00pm: SS 5 – Valinco 2 (25,94 km)
4.08pm: SS 6 – Alta-Rocca 2 (17,37 km)
7.38pm: Flexi service A (Bastia airport– 45 mins)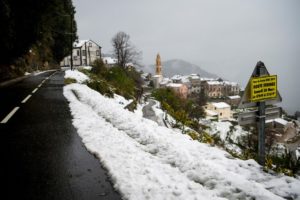 Saturday 30 March
6.05am: Start Day 2 & service B (Bastia airport – 15 mins)
7.38am: SS 7 – Cap Corse 1 (25,62 km)
9.08am: SS 8 – Désert des Agriates 1 (14,45 km)
10.14am: SS 9 – Castagniccia 1 (47,18 km)
12.32pm: Service C (Bastia airport – 40 mins)
2.38pm: SS 10 – Cap Corse 2 (25,62 km)
4.08pm: SS 11 – Désert des Agriates 2 (14,45 km)
5.14pm: SS 12 – Castagniccia 2 (47,18 km)
6.34pm: Flexi service D (Bastia airport – 45 mins)
8.24pm: Parc ferme (Place Saint Nicolas – Bastia)
Sunday 31 March
7.30am: Parc ferme out (Place Saint Nicolas – Bastia)
8.10am: Service E (Bastia airport – 15 mins)
9.45am: SS 13 – Eaux de Zilia (31,85 km)
12.18pm: SS 14 – Calvi Power Stage (19,34 km)
1.18pm: Finish (Citadelle de Calvi)
3.00pm: Podium (Citadelle de Calvi)