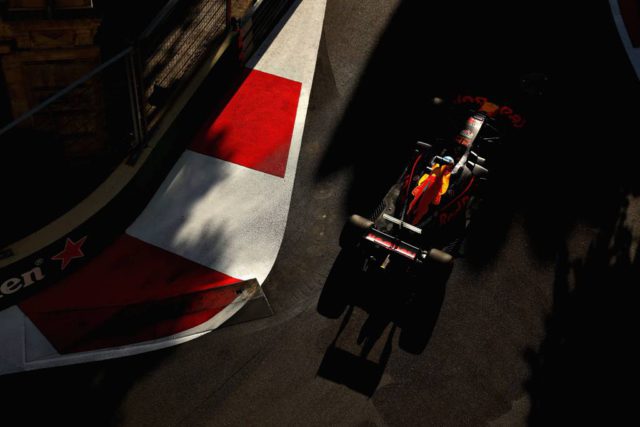 Daniel Ricciardo survived the chaos and won the Azerbaijan Grand prix. The race was full of incidents. Race control even stopped it after 22 laps to let the marshals clean the circuit from all the debris.
Ricciardo was 10th on the starting grid. He made an early pit stop to clear debris from his brake ducts. Then he gained positions and went into third after the race restarted when the debris was collected. Ricciardo also benefited when Lewis Hamilton had a problem with his headrest and Sebastian Vettel got a penalty for dangerous driving.
"We knew the podium was a chance after the restart, but then we heard the problems with Lewis and Seb. I made an unplanned pit-stop at the beginning, after a few laps we had some debris in the brakes, so had to stop and clean it, and we dropped back to 17th. Did I think then I'd win then? Absolutely not, I would have put all my money on it that this was very unlikely", Ricciardo smiled after the finish.
Ricciardo: "I was honestly speechless after the race, on the cool down lap I was just giggling like a little schoolboy"
The most controversial situation happened between Hamilton and Vettel. At the end of lap 20, the English driver backed up, preparing for a restart. The Ferrari driver hit him and gesticulated nervously. Then he swerved alongside the Mercedes and hit him again. For that Vettel received a 10-seconds stop-and-go penalty.
"I controlled the pace and like all the other restarts I slowed down in the same spot" Hamilton explained
"He's obviously sleeping and drove in the back of me, that for me wasn't an issue. Driving alongside and deliberately driving into a driver and getting away scot free, pretty much… he still came away fourth. I think it's a disgrace. He disgraced himself today, to be honest."
"If he wants to prove that he's a man we should do it out of the car face to face. Imagine all the kids watching Formula 1 today. Seeing that kind of behaviour from a four-time World Champion…"
LAP 20/51: More drama in Baku as HAM and VET collide behind the Safety Car ?#AzerbaijanGP #F1Baku ?? pic.twitter.com/rGcRwIhImi

— Formula 1 (@F1) June 25, 2017
? The moment when two title rivals collided #AzerbaijanGP ?? #F1 pic.twitter.com/0zT8BI4w1U

— Formula 1 (@F1) June 25, 2017
Vettel thought the situation was "quite obvious"
"I don't run into the back of him on purpose, I damaged my wing. He had a little damage as well, nothing that would have impacted on the race", he pointed out.
"It's just not the way to do it, he's done it a couple of times, after his [first] restart was really good he surprised me and jumped me, so I don't think it was necessary."
"We're all grown-ups, we're men, emotions running high in the car, but we want to race wheel-to-wheel but not when it's the restart. I think if I got penalised, he should get penalised, probably like every Sunday in the Premier League you get referees blowing the whistle, and some players agreeing and some disagreeing. That's sport at the end of the day, but 10 seconds is an awfully long time when you stand there with nothing to do."
PROVISIONAL CLASSIFICATION

What. A. Race.#AzerbaijanGP ?? #F1Baku pic.twitter.com/mARZ8ype9g

— Formula 1 (@F1) June 25, 2017