Lewis Hamilton was fastest during the first day of Formula 1 pre-season testing at the Catalunya circuit in Spain.
The Mercedes driver's time was 1:21.765min. He made 73 laps in the afternoon after his teammate Valtteri Bottas did 79 until noon.
Day one of #F1Testing looked like this ?@LewisHamilton = ⏱
Vettel and @MassaFelipe19 = over ? laps

Let's do it all again tomorrow ? pic.twitter.com/Z34oYcB6ZK

— Formula 1 (@F1) 27 February 2017
The first day of F1 teams' pre-season testing was followed with great interest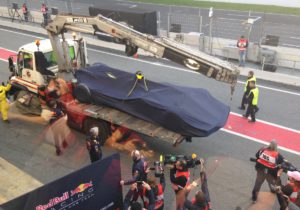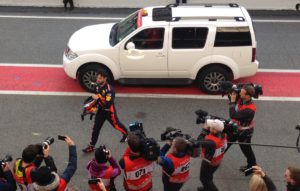 There were a couple of red flags and the first one was because Daniel Ricciardo stopped at the circuit.
Meanwhile Red Bull's team principal Christian Horner explained that the Milton Keynes team tried to stop the implementation of shark fins.
"The only thing which lets the cars down is the shark fins. We raised the question at a Formula 1 Strategy Group meeting last year to ask the teams to remove them to reinstate the because it's obviously pretty marginal on performance gain. In the interests of aesthetics it was asked that they be removed", Horner said.
The matter went to the F1 Commission where it was rejected by the majority of teams.
"Hopefully it's something that can be addressed for next year. If you ask our aerodynamicists they'd like to retain it. But I think from an aesthetic point of view the cars would look more attractive without it. Apart from the McLaren colour scheme, everything looks great. I think Ron [Dennis] must be going mad", Horner added.
McLaren had a nightmare during the first test day. An oil-system issue stopped Fernando Alonso after his first run. The team explained it would take several hours to resolve the problem because of its difficult access location. In the afternoon Honda preferred to change the power unit, while continuing to investigate the oil issue. Alonso managed to make 29 laps and gave 10th time (out of 11 drivers).
Chequered flag is out. That's a wrap on day 1 of #F1Testing@LewisHamilton is already speaking to the media. No rest for the wicked ? #F1 pic.twitter.com/3YZ7MjfMPp

— Mercedes-AMG F1 (@MercedesAMGF1) 27 February 2017