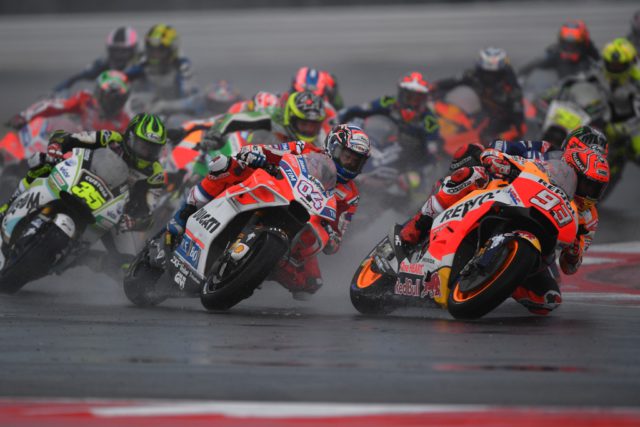 The Repsol Honda Team are on their way to the ultra-modern facility of MotorLand Aragón after regaining the Championship lead two weeks ago at Misano, where Marc Marquez won his fourth race of the season.
The Gran Premio de Aragón is round 14 of the 2017 MotoGP season, which continues to be one of the tightest ever. With only five races remaining, Marc is equal on points with Andrea Dovizioso at the top. Maverick Viñales is pursuing the co-leaders at a deficit of just 16 points, while Valentino Rossi and Dani Pedrosa are 42 and 49 points down on the top, respectively. He has 3 wins at the Gran Premio de Aragón 1xMoto2 (2011), 2xMotoGP (2013, 2016), plus 1 podium and 6 pole positions.
Marc Marquez:
"This Championship is amazing, so close! At Misano we returned to the top of the Championship, equal on points with Dovi, and our other title rivals aren't far away at all. The last five races will be very intense and hard-fought; we must keep working hard. I'm happy to go to Aragon this weekend. This is one of my favourite tracks on the calendar. And we'll try to give 100% in front of our home fans and fight for the victory like we did at Misano. We'll push from FP1 until the last lap of the race!"
Dani Pedrosa has 1 win in MotoGP (2012), plus an additional 3 podiums.
Pedrosa:
"It was a disappointing weekend in Misano two weeks ago. But we've already put it behind us and are looking forward to the next race in Aragon. We know that we can be much faster if we are able to have positive practice sessions, finding a good setup for our bike and making the tyres work as best as possible for us. I really enjoy going to Aragon. And I'm looking forward to racing in front of my fan club and my home crowd. I hope the weather will be kind to us and I can be in the battle for the podium again!"
Quien tiene ganas de #AragonGP ?? ☝?☝?
Who's looking forward to AragonGP? ✊? pic.twitter.com/q2jU1xbbzU

— Marc Márquez (@marcmarquez93) September 18, 2017