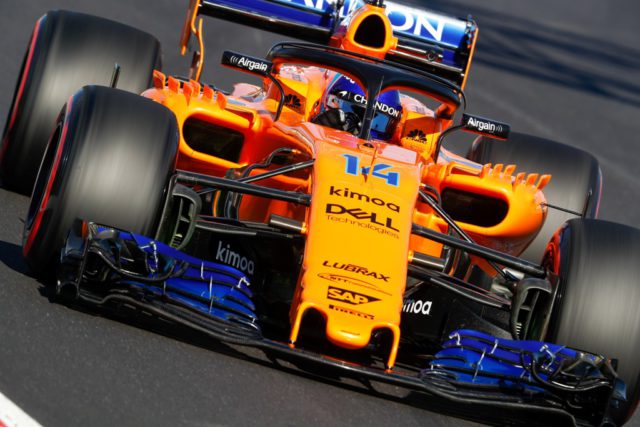 Fernando Alonso was forced to retire with transmission problems from the Monaco Grand Prix. It was a bitter blow: the Spaniard had run competitively inside the top 10 for his whole race and looked destined to claim seventh position. Instead, he rolled to a smokey halt at Ste Devote on lap 53.
"It was quite a boring race: I was cruising around in seventh position as there were barely any yellow flags or Safety Cars", Alonso commented afterwards.
"I'm obviously disappointed because this was our first retirement of the season. First, I felt a loss of power and then I was somehow stuck in fifth gear. It's painful because we had seventh place in the bag."
"We were the fourth fastest car around here during the weekend, and seventh in the race is what we would have deserved."
"There's nothing we can do about it now, but we obviously need to improve our reliability for the forthcoming races."
What a great day at the races ! ?????! Gear seeing @alo_oficial , @Carlossainz55 and Sir Jackie Stewart ! With @pladomor pic.twitter.com/hb52JY4Dyd

— Placido Domingo (@PlacidoDomingo) May 28, 2018
Alonso disappointed with his first retirement in 2018
Starting from 12th position, Stoffel always faced a difficult afternoon. A slightly longer than normal pit stop and a mid-race flat-spot delayed him, but he kept it on the road to finish 14th.
"This was a disappointing race for me. The first stint was really tough – I'd started on the Ultrasoft and was looking to run longer than the Hypersoft runners, but I had too much degradation and couldn't manage it. Then I lost a lot of time at my first pit-stop, and that also lost me track position", Vandoorne explained.
"My final stint – on the Hypersoft – was a bit quicker, and I could take the fight to the cars in front, but obviously Monaco is no place at which to overtake. We were expecting more, but I still think we've taken a step forward with our qualifying pace. But I think we need to really focus on improving our car performance so we're better placed to score points."
Despite the no-score, the team retains the fifth position in the constructors' championship, with 40 points.
I swear I don't sweat a lot! ? https://t.co/yUWJtKClcz

— Stoffel Vandoorne (@svandoorne) May 30, 2018