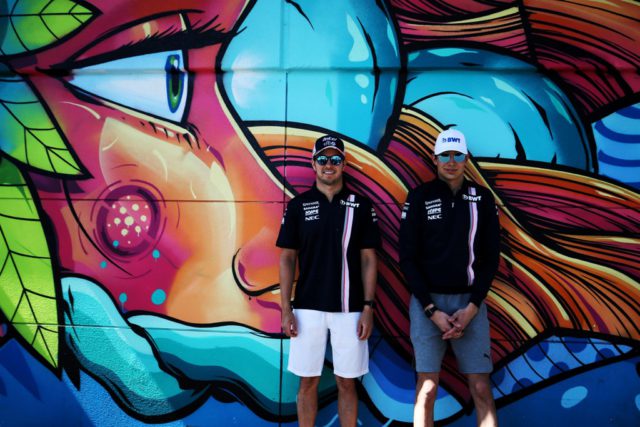 Sergio Perez has been looking forward to the Australian Grand prix all winter, the Force India driver said. According to him, Melbourne is a really cool place to start the season.
"I love the city and it's probably one of my favourite places to visit. One thing I love about Melbourne is the wildlife and the scenery. I remember driving down the Great Ocean Road a few years ago and loved the experience."
"I also enjoy visiting the zoo because I always like to see the koalas – even though they are usually asleep!", Perez explained
"You always arrive in Melbourne full of hope. There are lots of unanswered questions and it's when you really start to understand your competitiveness. At the same time, it's not a typical race because it's usually quite unpredictable. Often just finishing the race is the key to getting a good result."
"I feel in good shape and ready for the season to start. I want this to be my best year in Formula One and I want to be back on the podium. During testing, we saw that all the midfield teams are quite close together in terms of performance. I also think the gap to the front of the grid is smaller. Let's see what happens."
"The Albert Park circuit is always difficult. It's not easy to find your flow because it's quite stop and start. You need to be strong on the brakes and have good traction. I would say my favourite part of the lap is turn one; it's challenging and bumpy, and it's not easy to see the apex when you're turning in. It becomes even more difficult late in the day when the sun is low in the sky and in your eyes."
First track walk of the year… and what a backdrop for it! #AusGP pic.twitter.com/zcJDgRCnvl

— Sahara Force India (@ForceIndiaF1) March 21, 2018
It was a long winter for his teammate Esteban Ocon as well who had a 2-month training camp in the Pyrenees
"But hopefully all the hard work will pay off now the racing is starting. I can honestly say I'm in the best shape of my life. I feel ready to go racing again. Testing is one thing, but now we will get the real answers in terms of our performance", he continued.
"Melbourne is a fantastic place. I think everybody in the team enjoys going there. The weather is usually nice and there's extra excitement because it's the start of the season. The atmosphere is brilliant all weekend and the fans give you lots of energy. I think it's a perfect place to start the season."
"The Albert Park track is quite old school. It's narrow and very technical. The secret to a good lap is being neat and tidy because it's largely made up of low and medium-speed corners. I would say the most exciting part of the lap is the high-speed chicane through turns 11 and 12 because it's easy to make a mistake and lose time."
"I'd like to think we can fight for points in Melbourne. We had a really solid second week of testing in Barcelona. I feel comfortable in the car and it's very consistent. We have new parts coming for the race so hopefully, that's another performance step."