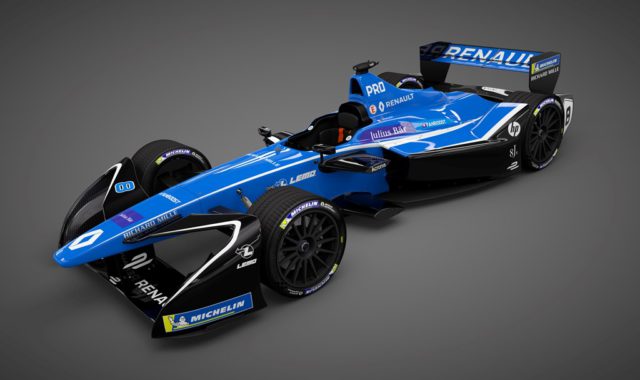 Renault e.dams presented its new livery and partners for the Formula E Season 4. The team also celebrated its constructors' title in Season 3. Co-owners Alain Prost and Jean-Paul Driot, Jérôme Stoll and Cyril Abiteboul, respectively President and Managing Director of Renault Sport Racing, as well as Gilles Normand, Director of Renault Electric Vehicles and drivers Sébastien Buemi and Nicolas Prost were all present at the launch, which happened at the Atelier Renault on the Champs Elysées.
You made it! Thanks to your interactions, you can have a look on the Z.E.17: season 4 new livery. New style but same goals 😉 pic.twitter.com/Zi7vQCfVA8

— RENAULT e.dams (@RENAULTedams) September 26, 2017
With its third consecutive team title, Renault e.dams is the only squad to have won the title since the creation of the discipline. Last year, Renault e.dams scored the double, taking the Team's title and Driver's title with Sébastien Buemi, and will try in Season 4 to do it again and to remain undefeated in a more and more competitive championship.
During this celebration, the Renault Z.E.17 was unveiled by the drivers, Sébastien Buemi and Nicolas Prost, and presented by Alain Prost and Jean-Paul Driot. The new livery is this year, like last year, characterised by a very predominant lively blue presence, which is Renault's symbolic electric vehicle color. The white adds a touch of elegance while also respecting the brand's codes. A horizontal white line is a reminder of the Formula 1 livery and confirms the coherence of the Renault image in FA and FE.
Cyril Abiteboul
"For the past forty years, being an engine supplier has been the common thread in Renault's motor racing involvement, in Formula 1 and now in Formula E. As the only constructor currently implicated in both disciplines, Renault has developed multiple synergies between the two programs. This is firstly true on the technical level, with a single engineering department and a common resource center. I believe that our supremacy in Formula E is due in large part to the expertise developed for Formula 1 since the arrival of the hybrid systems in 2009."
"For season 4, the challenge for Renault Sport Racing will consist of balancing the resources between defending the three Team's titles and – in providing a service that must be exemplary in this season of technical stability – and the preparation of season 5, which will be marked by major rule changes. These synergies are also reflected in the image. The new Renault e.dams livery foreshadows the evolution of our identity in Formula 1 for the 2018 season."
You were waiting for it, here is the #ZE17 our new flagship for season 4. Ready as ever to fight for a 4th title. What do you think? pic.twitter.com/XNIVGgDJtp

— RENAULT e.dams (@RENAULTedams) September 26, 2017
Alain Prost
"I am delighted to finally lift the veil on the colors we will use to defend our title in this new season. Our goal remains the same as it has been for the past three years: win the Team's and Driver's championships. We have seen that the competition will be tougher with some major car manufactures joining us in the championship. But we have a very good team and a very solid technical partner with Renault. We also have two excellent drivers, who have worked very well together since the beginning of our adventure, they are very complementary. We have a genuine cohesion at all levels, which is our strength. This year, our motivation is stronger even though we know that the challenge will be harder to meet."
Jean-Paul Driot
"The new livery for season 4 gives a new impetus to our Renault e.dams to run more and more at the sharp end of the grid. However, it is necessary as always in motor racing to remain humble. The competition with the biggest manufacturers is going to be tough, but adversity is the driving force behind our great motivation."
Nicolas Prost
"It is always a pleasure to discover new cities. I am happy to return to certain tracks like Hong Kong, Paris, New York and Montreal. I look forward to discover the new destinations in South America. We have always been warmly welcomed!"
Here it is: the new Z.E17. What do you think? #EyesOnThePrize @RENAULTedams @HP @Richard_Mille @LEMOConnectors @8Js_Official @Acronis pic.twitter.com/XyrBBS5hsF

— Sébastien Buemi (@Sebastien_buemi) September 26, 2017
Sebastien Buemi
"I am delighted about the destinations for this year but even more so to be able to finally welcome an ePrix in my home country, Switzerland. It is a dream come true. Zurich is the biggest city in the country and it will be incredible to race there. I am very impatient to discover the circuit and race for my country."
Season 3 was full of suspense, but thanks to the hard work from the team, we won our 3rd team's title ? #TeamSpirit #ReadyForS4 pic.twitter.com/kKT7Khv6o8

— RENAULT e.dams (@RENAULTedams) September 26, 2017