Esapekka Lappi answered a few questions as he talked about his special relationship with driving on snow and ice before Rally Sweden. The rally is the second round of the 2019 WRC.
When did you drive on snow for the first time?
"Like a lot of Scandinavians, I drove a rally car for the first time on a frozen lake, when I was eleven years old. It was a rear-wheel drive car, the only one I had driven, and it belonged to my older brother."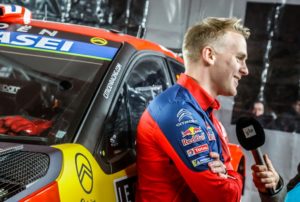 Do you have more experience on gravel than snow?
"I have competed more on gravel. Certainly, since I joined the world championship as the majority of the events are contested on this surface. In the Finnish rally championship, however, three of the seven rounds were held on snow, including the famous Arctic Rally based in Rovaniemi in Lapland. And when I was younger, from the age of about eleven to fifteen, when I couldn't take part in karting races during the winter, I practised driving on nearby frozen lakes."
Weather report – Our wishes came true with todays minus degrees that gave us a nice solid layer of ice! ??❄️

? See todays pictures from Vargåsen, Hagfors and Rämmen! pic.twitter.com/1UoT8RB0TR

— Rally Sweden (@RallySweden) February 11, 2019
What do you like most about driving on ice and snow?
"When you're in a forest bathed in gleaming, pure light, on roads covered with pristine white snow, with freezing temperatures and surrounded huge snow banks, it really is a magnificent setting for driving. There's no better place to drive a rally car, in my opinion! I really love it when you can lean on the snow banks as you exit a corner, even if it's always a bit of a gamble because some are softer than others and you can end up getting stuck or going off the road. Some drivers mark which snow banks can be used in their pace notes, but I don't because you can never be sure that it will still be there when you come through the stage!"
What's your favourite stage?
"I really like the stages held in Norway on Friday's leg. They are more technical than the ones on the Swedish side of the border and generally speaking, there is more ice and snow."
#RallySweden:
➡️19 stages
➡️ 316 km
➡️ snow & ice
The stages are fast, which I like and I feel that we worked well in testing. I just hope we'll have a bit of luck on our side this time and our hard work will pay off.#C3WRC #Citroen #WRC #L4PPI pic.twitter.com/lr5jTWcbMk

— Esapekka Lappi Rally (@EsapekkaLappi) February 11, 2019
What about your favourite memory?
"I would say that Sunday's leg last year was pretty special. We won two of the three stages, including the Power Stage. And we made up two places to finish fourth overall. It was a good fight, especially as the Likenas stage, which like this year we contested twice, calls for full commitment because of the speeds reached."
And your worst memory?
"In 2016, I managed to get stuck briefly in a snow bank on the only stage of the rally where there was a decent covering of snow. That year, no fewer than eight stages were cancelled due to the particularly mild conditions."
Which "spectator spot" would you recommend?
"I'd go and stand in a safe place at a series of really fast corners, where the cars are pretty much on the rev limiter, in order to see who is feeling confident in the car and who is less so. "
Citroen secrets
Sébastien Ogier and Julien Ingrassia enjoyed their first experience on the Scandinavian snow some ten years ago when competing for the Citroen Junior Team. Flashback…
At the time only held in Norway, the Nordic round of the 2009 season saw Sébastien and Julien finish in tenth place, not without setting a few promising times on what was only their third rally in the C4 WRC. Their maiden outing in Sweden a year later, still competing on behalf of the Junior Team, was even more impressive. They finished fifth overall after a consistent performance, at a rally where experience is nevertheless absolutely critical.
After joining the Citroen Total World Rally Team, they arrived at the 2011 rally for their debut outing in the DS3 WRC with an enhanced reputation. They were also more experienced with two WRC wins to their name (Portugal and Japan in 2010). They wasted little time confirming their new-found status with three stage wins on this surface and fourth place. The tone was set for a season in which they would end up with five outright wins (in Portugal, Jordan, Greece (Acropolis), Germany and France-Alsace).
What if Vikings chose Citroën CX to get to their battlefield, fighting the cold weather ❄ while walking into the boreal forest. @SebOgier & @EsapekkaLappi are ready to take over ?? Rally Sweden! ?️ See you on February 14 to 17 to watch #C3WRCLive on Facebook! #100YearsOfFans pic.twitter.com/OVy3ar3g4s

— Citroën (@Citroen) February 11, 2019