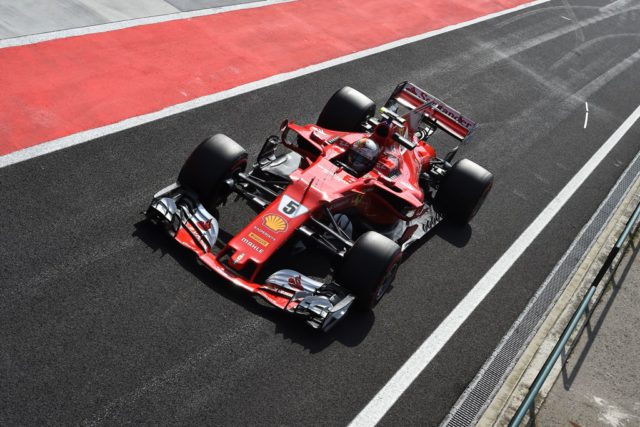 The second and last in-season test session of the year ended with both Ferrari drivers back on track at the Hungaroring after last Sunday's one-two in the race. Sebastian Vettel took the wheel of the SF70H on Wednesday morning at 9, and handed over to Kimi Raikkonen after a couple of hours, for the Finn to continue the development work.
Sebastian completed 47 laps, his best time being a 1:17.124min on supersoft tyres, while Kimi ran 60 laps with a best time of 1:17.842, also on supersoft. Now drivers and team will have some well-deserved rest during the two-week summer break, to get ready for the forthcoming challenges.
"You don't get a lot of testing over the season", Sebastian said. "So it was a good opportunity to try a couple of things and get a feeling from the car. Obviously, in such a brief test you are not expecting to turn the world upside down, but it will be useful for the next races and for a better understanding of the car."
"I think this year we've been strong pretty much everywhere, of course there have been races in which we did not perform at our best; of course there will always differences from track to track, but the purpose of all the work we do is to be in a good shape for the rest of the season. We've picked up momentum with the win in Hungary, now it's up to us to keep it going, but I am confident that we have the right people and are going in the right direction. As for my holidays… I haven't done much planning, I think I'll just be getting some rest, after all those flights!"
"It was a good opportunity to try a couple of things and get a feeling from the car", Vettel of Ferrari said
"We always bring something different, irrespective of where we are and try to learn from it", commented Kimi. "We had a very good result, as a team, in Hungary, but we always try to improve further. It was a normal testing day, but obviously you have more time and tires available than you have during a race weekend, so we try to get the best out of it. In the last few races, my feeling with the car has improved consistently, which shows that the new things we've brought have helped me drive better and better. Also, I am happy that I could help Charles Leclerc prepare for his test, but then it's fair to say that all the team supported him".
All eyes on the trophy. #HungarianGP #ForzaFerrari pic.twitter.com/YstZKiuCyA

— Scuderia Ferrari (@ScuderiaFerrari) July 31, 2017