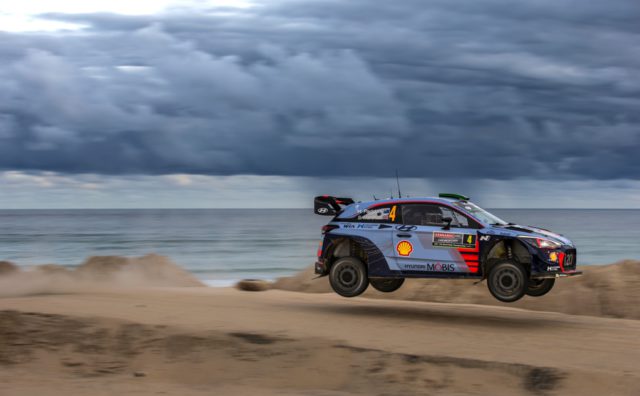 Hyundai Motorsport scored its fourth victory of the 2017 FIA World Rally Championship in Rally Australia. The Belgian crew of Thierry Neuville and Nicolas Gilsoul took the win. Hayden Paddon and Seb Marshall finished in third position to register their second podium finish of the season. They were initially on course to take fourth but were promoted to third after second-placed Jari-Matti Latvala went off in the Power Stage.
Stage wins for Paddon and Neuville brought the total for the weekend to 14 from a possible 19.That is the most the team has scored in any event in its four-season history.
A tough season for Paddon saw a best result of second in Rally Poland. But a third-place finish in Rally Australia will give the Kiwi and his co-driver Seb Marshall some small solace. A win in the long SS18 Bucca16 stage allowed the crew reiterated the progress they have made this weekend.
"It has been a difficult season for me", Paddon admitted
"At least we have been able to bring the year to an end with a more representative result. We never want to score a podium through someone else's misfortune. And it's a shame for Jari-Matti, but it's a nice result for us after a tough year. There is some light at the end of the tunnel in terms of finding our feeling with the car. We have found some answers during the weekend [in Australia], which has been the main objective. Overall, the car felt better after we made another big change with the diff mapping. We've just been gathering information for the future and were set on bringing the car home safely in third and our second podium of the season."
Well we didn't expect that – great to finish a tough year with a podium here at Rally Australia. While we didn't have the speed we wanted, we stayed patient and ran our own rally while focusing on improvements for the future – big thanks for everyone's support! #paddonspack pic.twitter.com/RF9ePTaX5D

— Hayden Paddon (@HaydenPaddon) November 19, 2017