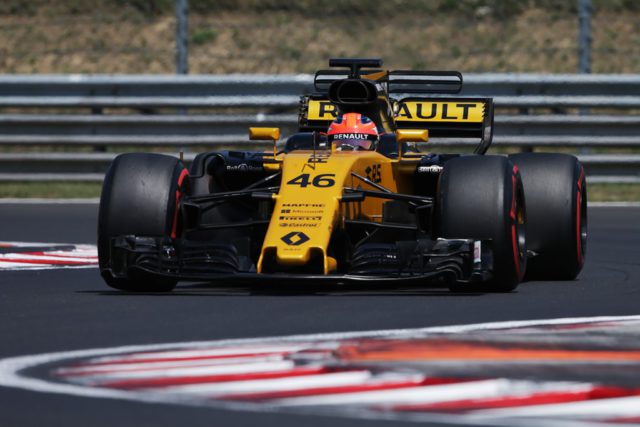 Robert Kubica was fourth fastest during the second day of the F1 test at the Hungaroring circuit. That was his return to first official Formula 1 test session in over six years. To a backdrop of enthusiastic chanting from his loyal fans, Robert completed 142 laps – equivalent to over two Grands Prix – following a programme of various aero and tyre assessments. Robert's best lap today, a 1min 18.572secs, was his fastest-ever time around the Hungaroring, the same circuit where he made his Formula 1 Grand Prix debut almost eleven years ago.
"It was a fantastic feeling for me to be here today in the R.S.17 and also it was amazing to see so many fans come to see me out on track, so thank you to all of them. It has been an incredible journey to this point, where I have answered many questions to myself. I learnt a lot about the latest generation car, as there are a reasonable amount of differences between it and the Formula 1 cars I have driven in the past."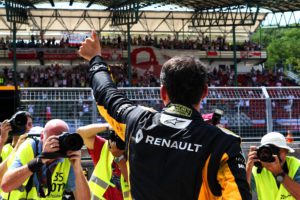 "The car is certainly wider than before. I was able to work through the team's programme methodically and I think we made good progress. Certainly my understanding of the R.S.17 and the 2017 tyres came on a lot. After today, it's too early to say what the next step might be. For now, I owe a big thanks to everyone at Renault Sport Formula One Team for making this test happen", Kubica commented.
Sebastian Vettel was fastest for the day in front of Lando Norris (McLaren) and his teammate Kimi Raikkonen.
Robert Kubica was fourth fastest during the second day of the F1 test the Hungaroring circuit
INITIAL CLASSIFICATION: END OF DAY TWO#F1Testing 🇭🇺 #F1 pic.twitter.com/WPanqOFwk4

— Formula 1 (@F1) August 2, 2017
Have we mentioned how awesome the fans have been today? They are AWESOME!! #Kubica #BudaTest pic.twitter.com/F8Hb2VGKsf

— Renault Sport F1 (@RenaultSportF1) August 2, 2017