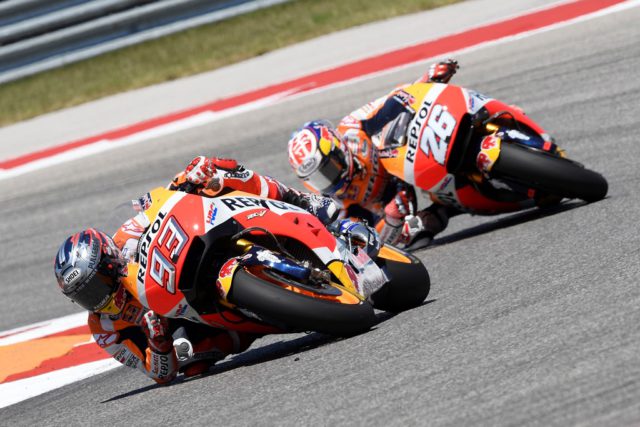 The Repsol Honda Team arrive in Motegi, the first in a challenging three-race back-to-back flyaway stint and Honda's home Grand Prix, having achieved a fantastic 1-2 result at the Aragon Grand Prix. Marc Marquez's win at his home race extended his Championship lead to 16 points over nearest rival Andrea Dovizioso and 28 over Maverick Viñales in third place, while Dani Pedrosa's close second-place finish on home turf put him fourth, 54 points back.
Marquez and Dani have both enjoyed brilliant results at the Twin Ring Motegi circuit and are the only riders on the current MotoGP grid that have managed to win at Motegi in all three classes.
Marc Marquez has also clinched two of his MotoGP World titles there, in 2014 and last year, when he also took his first MotoGP win at the circuit
He has 3 wins at the track – 1×125 (2010), 1xMoto2 (2012), 1xMotoGP (2016), plus 3 podiums and 2 pole positions.
"There are four GPs to go in the season, and we must give 100% at every one, starting with the three flyaway rounds", Marquez commented.
"These races are always demanding due to the different time zones and conditions, and this year with the Championship so close, they'll be even more of a challenge. The most important thing for us is that since Montmeló, we've been on the podium in every race but Silverstone. We've done a good job of managing different conditions and different circuits, which gives us confidence and shows that we're at a good level everywhere. We have some great memories in Japan because we won last year and got the title there twice, but every season is a new story and we must remain focused and ready to handle every situation."
"Track conditions in Motegi can vary dramatically, and we'll have to work hard on the setup to find a good compromise for the hard acceleration and braking. We'll give our best effort and push hard to get another good result in front of Honda's home fans."
Ya en Japón! Visitando la sede de Honda! / Already in Japan! Visiting Honda Office! #JapaneseGP #Honda #Tokyo (? by @MotoGP) pic.twitter.com/QxPcZnl827

— Marc Márquez (@marcmarquez93) October 10, 2017
With five victories across all classes, Pedrosa is the most successful rider at Twin Ring Motegi, despite having to retire from last year's round after he was injured in a heavy crash during FP2
His successes are 1×125 (2002), 1×250 (2004), 3xMotoGP (2011, 2012, 2015) – plus an additional 5 podiums and 4 pole positions.
"I look forward to racing at Honda's home circuit in Japan! Not only are the fans very special – they are incredibly passionate and in love with Honda and with the sport which makes you feel very welcome – but also the circuit is great. I've had a good feeling with the track from the first time riding there when I was 15 years old. It suits my riding style and I enjoy the track a lot. Last year, unfortunately, I had a big crash and suffered a serious injury but I hope this season we can keep up the good momentum and have a strong race. We'll definitely give our 100% to make it happen!", Dani said.
Visiting Honda HQ and meeting the fans today in Tokyo! #Honda #thepowerofdreams #JapaneseGP pic.twitter.com/8fE4VCVyvq

— Repsol Honda Team (@HRC_MotoGP) October 10, 2017