Frenchman Sébastien Ogier took advantage of Rally Australia crashes to his FIA World Rally Championship rivals Thierry Neuville and Ott Tanak to secure his sixth straight WRC title on Sunday.
His fifth place behind race winner Jari-Matti Latvala meant that he ended the 2018 season with an 18-point lead over Belgian Neuville, but it was not all plain sailing for the 34-year-old throughout a fascinating campaign.
Here are the 10 crucial steps behind the Gap native's latest trophy success: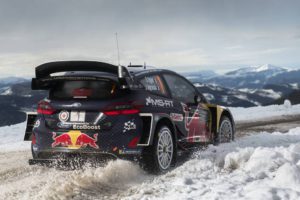 A lights-to-flag win at round one in Monte Carlo was the perfect start to the season for Ogier. His fifth straight WRC win in the French Alps came after a sublime effort from Gap's local hero. Ogier said: "Monte is always such a difficult rally and everybody made mistakes on this one, with the conditions always changing. We made mistakes as well, just less than our rivals."
2) The evolution of the Ford Fiesta WRC
Moving into its second season, M-Sport worked tirelessly on the development of the car which had won both the manufacturers' FIA World Rally Championship title and the drivers' and co-drivers' titles for Ogier and Julien Ingrassia. M-Sport's chief rally engineer Chris Williams explained: "Development is always ongoing with a rally car, but what also helped Séb and Julien take their second title with us was the way we all learned more and more about how to get the best out of the car. Through this season, they really figured out the best set-up and how to make this car very fast."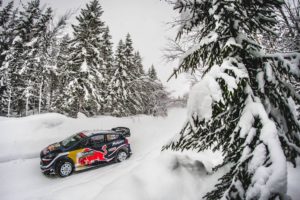 Rally Sweden was one of the most frustrating rallies of Ogier's career. Heavy snowfall on the opening day made it impossible for the Frenchman to have any impression on the sharp end of the leaderboard – he was almost three minutes back after day one. His only chance of points came on the bonus points-paying Power Stage. Some quick thinking and cool calculations from M-Sport Ford World Rally Team allowed the British team to find Ogier a preferable place in the running order and he made the most of it with second fastest time and more valuable points.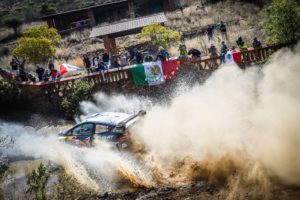 4) Good fortune in Guanajuatito
Equal third going into the second half of Rally Mexico, Ogier leap-frogged his way to the front when rivals Sébastien Loeb and Dani Sordo suffered punctures in the Rally Mexico stage. That Saturday afternoon was, however, trademark super-Séb Ogier. He won every stage and laid the foundations for a sensational second success of the season. Two out of three ain't bad. Williams added: "Mexico showed, once again, what Séb and Julien are capable of. When they needed to find the speed, they really found it and delivered."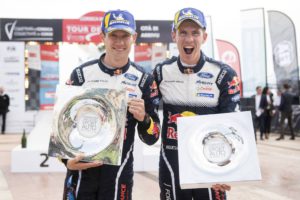 5) Three out of four really ain't bad
Departing his 'home' round on the French island of Corsica, Ogier held a 17-point lead following his third win from the first four rallies. And, like round one in Monte Carlo, the defending champion was never headed. M-Sport team principal Malcolm Wilson said: "That win in Corsica was so important for us. We'd worked hard on the car for the tarmac and this showed it was absolutely right. And to come away from there with three wins from four starts, things were looking very good for Séb and Julien."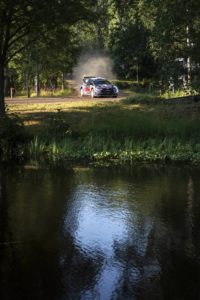 6) Finding the feeling
The Ford Fiesta WRC's second-half pace was boosted by a revised suspension set-up in time for Rally Finland. Williams revealed: "The damper work we did with the car was really important this year. Again, this was an evolution of what we had, but it's these changes which make the difference when you're chasing a championship. There's no doubt, the second half the of the year tough for us, but that's when you see the real quality of the team and crew."
7) Ogier's new wings
It wasn't just the Fiesta's suspension that was worked on mid-season, the #1 M-Sport car arrived in Finland with revised aero. The full benefit of these wing-tweaks weren't truly seen until the tarmac stages in Germany. Unfortunately for Ogier, his hopes of another win among the vineyards was spoiled by a Panzerplatte puncture.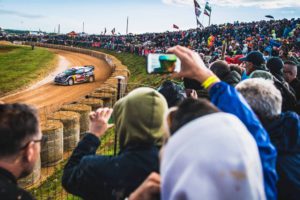 8) Bouncing back
A hugely exciting season was never more exciting than going into the final stage of Rally Italia. Ogier was 0.8 seconds ahead of chief title rival Neuville. The M-Sport star lost that particular battle, finishing second to the Belgian by seven-tenths of a second, but the mental strength he showed in not dwelling on that disappointment over the summer break was undoubtedly a positive in his ability to reel Neuville in through the season's second half.
9) Finishing speed
After trailing Neuville – and sometimes Tanak – for eight rallies, Ogier moved back to the front at the penultimate round in Spain. He finished second to Loeb on the rally and second to Tanak on the powerstage, but the impetus was back with the defending champion. Three points up heading down under, Ogier was back on the crest of the wave and ready to ride it home on the New South Wales coast. Wilson said: "The performance from Seb and Julien in the last two rallies before Australia, in Spain and before that with the win in GB… they were so, so special. On the final morning in both of those events, they were just incredible. So calm, so cool and so able to just deliver."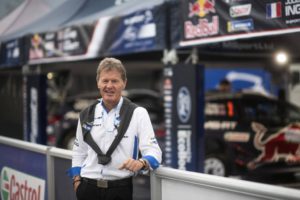 10) The boss
The relationship Ogier has developed with M-Sport team principal Wilson has been invaluable to this sixth title. Ogier enthused: "He's given me everything." And the compliments flow just as freely in the other direction. Wilson declared: "I've never seen a driver do what he's done this season. Honestly, he has opened my eyes to what real, true and total determination really means. He's been magnificent. Throughout this year – and especially the way he's responded in the second half – he has driven the drive of the true champion he really is."
"Quelle saison incroyable ! Ça a été très serré, avec des hauts et des bas. Il n'y a pas si longtemps on se disait que le titre serait dur à remporter mais on n'a jamais baissé les bras. Au final, on le gagne pratiquement dans la dernière spéciale. C'est une émotion très forte !" pic.twitter.com/EDTr9Jnw3Y

— Sébastien Ogier (@SebOgier) November 18, 2018
"On avait une équipe fantastique derrière nous. Ils nous ont tout donné. Merci à @MSportLtd et surtout à Malcolm. On a vécu une aventure incroyable ensemble, on a réalisé quelque chose de très spécial pendant ces 2 ans. Je suis très fier de mon équipe. Vous êtes les meilleurs !" pic.twitter.com/9KIHweUUzY

— Sébastien Ogier (@SebOgier) November 18, 2018