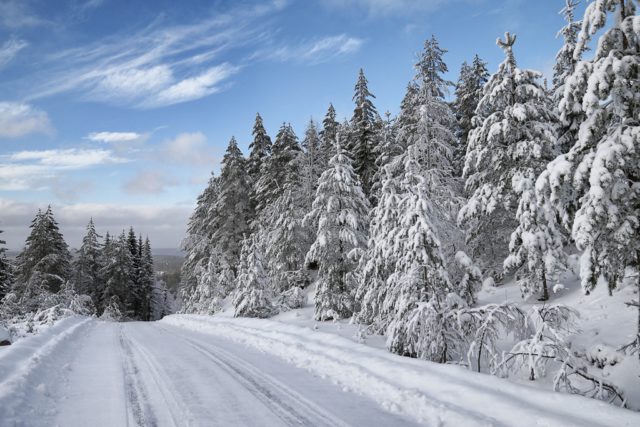 M-Sport Ford World Rally Team is ready to tackle the frozen stages of Rally Sweden with three EcoBoost-powered Ford Fiesta WRCs. The event is the second round of the 2018 FIA World Rally Championship. Ready to take the fight to their rivals, Sébastien Ogier and Elfyn Evans have completed a comprehensive test session and are poised to turn Värmland's winter wonderland into a winter thunder land.
M-Sport Ford has enjoyed much success at Rally Sweden, but Team Principal Malcolm Wilson knows that the competition will be stronger than ever this year
Having secured six victories on the snow-covered stages, the Swedish fixture remains the team's most successful event on the current FIA World Rally Championship calendar and the team will be hoping to give the Scandinavians a run for their money next week.
"Early reports suggest that we're in for a classic Rally Sweden with plenty of snow and plenty of action out on the stages. We completed a comprehensive test with all three crews [last week] and they all came away with a good feeling, so let's see what we can do", Malcolm Wilson said.
"We're expecting the competition to be extremely strong and we know that the Scandinavian drivers will be in top form, but we also have three very strong candidates. Sébastien has won the event three times and Elfyn is also a previous Rally Sweden winner having out-performed the locals as part of the WRC 2 category in 2016."
"The scene is set for another epic battle and we're certainly hoping to be in the mix for at least a podium. If we can secure another strong haul of points for our championship defence, we'll leave Sweden very happy indeed."
With three Rally Sweden victories to their name, Sébastien Ogier and Julien Ingrassia are the most successful non-Scandinavians in the history of the event
Their number of wins only bettered by that of Stig Blomqvist, Marcus Grönholm, Björn Waldegård and Jari-Matti Latvala.
Organisers expect near-perfect conditions on the stages. That could be a disadvantage for the pairing as the first car on the road. They will sweep a clean line through the fresh snow for the cars behind. But the Frenchmen are always in the race, even when the odds are against them.
"It looks as though we are in for a true winter rally with everything needed for a classic Rally Sweden. Reports from the region suggest that there's a good ice base and high snow banks which is everything a driver wants to hear ahead of this event", Ogier commented.
"In those conditions, we can reach incredible speeds and lean the cars on the snow banks to help guide us through the corners. It's an amazing feeling, but it's not without its challenges."
"There's certainly an art to driving on snow and you need to be precise. You have to judge the strength of the snow banks perfectly and – with more snow than previous years – there could be a lot of work to do on the pace notes."
"As the first car on the road, we'll also have to wait and see what the conditions are like and we're certainly not hoping to see any fresh snow on Friday."
"We got the season off to a great start last month, but we all know how strong the competition is and we're expecting it to be even stronger. The Scandinavians are always strong here, but we plan to give them a hard time and secure another strong haul of points for our championship defence."
Elfyn Evans may have limited experience of winter rallying, but the Welshman knows what it takes to win at Rally Sweden
He out-performed some of the region's most promising young talents to secure victory as part of the WRC 2 category in 2016.
This year, he and Barritt will be looking to improve on their career-best sixth place through the snow-covered stages and will have every chance of doing just that.
"Rally Sweden is an event that everyone looks forward to. On a classic Rally Sweden – like what we're expecting this year – we can reach incredible speeds and if you get it right it's easily one of the most enjoyable rallies on the calendar", Evans explained.
"The feeling on snow isn't a million miles away from driving on gravel. But there are certain techniques that we'll need to adapt. And it can take a bit of getting used to at first."
"Vision can often be a challenge – particularly if there is a lot of fresh snow making it difficult to read the road ahead. There's something of a score to settle after Monte where we were capable of achieving more than we did, so let's see what we can do in Sweden."
At our Dovenby Hall base in Cumbria, we're already getting in the mood for @RallySweden ❄️ #WRC #SnowDay #RallySweden pic.twitter.com/uDDM3QoqgK

— M-Sport (@MSportLtd) February 6, 2018