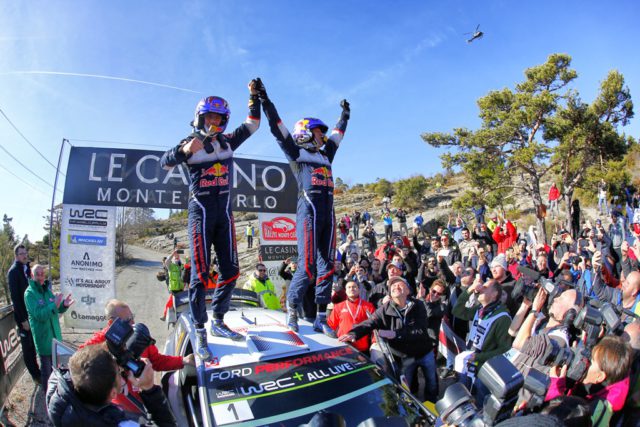 Sébastien Ogier and Julien Ingrassia brought their EcoBoost-powered Ford Fiesta WRC to a fifth consecutive victory at Rallye Monte Carlo.
Leading from start to finish, the pairing displayed everything needed to conquer the Monegasque event – speed, strategy and a little bit of luck along the way.
Securing four stage wins, the Frenchmen were also the masters of strategy – taking an advantage through the most challenging conditions and controlling the lead thereafter.
It was another Monte masterclass, and the first step in their championship defence.
Ogier: "I don't think I've ever struggled so much with the tyre choices"
"We always face tough conditions at Rallye Monte-Carlo but this year they were really extreme. I don't think I've ever struggled so much with the tyre choices, so to have come out on top is fantastic", Sébastien Ogier said.
"I think everyone made mistakes – myself included – but it was almost impossible to have the perfect drive. Luckily we only had some small mistakes. And once we had a good gap it was just a case of trying to manage it.But that is never easy in these conditions either!"
"It's the best way to start the season and I need to congratulate the team because everyone has worked really hard and I know that they will also be super happy with this result. The competition is going to be stronger than ever and we've made a strong start which is really important."
5 Times in a row, 5 Times with my love on mys side ?????@AndreaKaiser pic.twitter.com/eSBhdSCQwA

— Sébastien Ogier (@SebOgier) January 28, 2018
Meanwhile, Elfyn Evans and Daniel Barritt recovered sixth place
They picked up a puncture on the very first stage and lost more than three minutes to the leading pack. Refusing to lose focus, they came back from 16th. Evans took 2 stage victories which showed he had a great pace but managed only 6th.
"It's been a tough edition of the rally this year and we had an especially tough start losing so much time on the very first stage. Over the next few days I think we were there or thereabouts in terms of outright speed, but overall there were just too many little errors", Evans admitted.
"When it came to making the smart choices at the right time, we weren't quite there and that's what cost us a really good result. The comforting thing is that the speed is there, but we still need to be better."
Mixed feelings after a tough edition of @rallyemontecarl Good speed for the most part but a puncture on the 1st stage set us back down the order, fought back to P6 but felt more was possible! Plenty to work on moving forward! Big congrats to @SebOgier Julian @MSportLtd on the win pic.twitter.com/bgT3McaYvm

— Elfyn Evans (@ElfynEvans) January 29, 2018
Bryan Bouffier and Xavier Panseri impressed in difficult circumstances with the third Fiesta WRC
Rallye Monte Carlo is challenging at the best of times, but Bouffier was forced into a last-minute co-driver change mere hours before the race.
When Jerome Degout sustained an injury on the pre-event reconnaissance, Panseri was drafted in fresh from his sixth-place finish at the Dakar Rally. Despite the pairing's limited preparations, they rarely put a foot wrong and delivered a controlled and intelligent drive to eighth place overall.
Having learnt much about the power and performance of the top-specification Fiesta, Bouffier will return to the wheel at the Tour de Corse.
"Our pre-event preparations may not have been the best, but we certainly did our best and in the end, it was all okay. We have had a lot of different conditions but I have to say that I really enjoyed driving this car in all of them."
"For sure I have learnt a lot about how the car performs and reacts, but we're not there yet. It's a good start and I'm looking forward learning, even more, when I get back behind the wheel in Corsica", Bouffier commented.
? SS17 Bryan Bouffier – "It was amazing. I am not a young driver but I learned so much this weekend. I am looking forward to getting back in this fantastic car." #WRC #FordPerformance #RallyeMonteCarlo pic.twitter.com/W4m0rwC2Zy

— M-Sport (@MSportLtd) January 28, 2018