The 2018 FIA Formula 3 European Champion Mick Schumacher will make his Race Of Champions debut on January 19-20, 2019. This ROC edition will be at the Foro Sol, the iconic amphitheatre forming part of Mexico City's Autódromo Hermanos Rodríguez Formula 1 circuit.
Fresh from his victorious season, the 19-year-old Schumacher – son of seven-time F1 world champion Michael – will also team up with his fellow countryman Sebastian Vettel for Team Germany in the ROC Nations Cup
This is sure to be an occasion charged with emotion. Vettel partnered Mick's father Michael to six consecutive ROC Nations Cup victories. The pair started their glorious run at London's Wembley Stadium (2007-2008), followed by Beijing (2009), two wins at home in Düsseldorf (2010-2011) and a final triumph at Bangkok (2012).
It was the following year that Michael suffered a serious head injury. The F1 legend has stayed in the thoughts of everyone involved with the Race Of Champions. Before every ROC event, a banner in Michael's honour unfurled in the intervening years along with awareness and funds raised in aid of the ICM Brain and Spine Institute.
Now Mick will bring the Schumacher family name back where it belongs, racing for glory on the track itself. As one of the trustees of Keep Fighting Foundation inspired by Michael Schumacher he will also help raise awareness of the initiative of Michael's family wishing to continue his charitable work.
The young Mick first raced in 2008
Initially, he competed under his mother Corinna's maiden name Betsch to limit the pressure of his famous surname. After a decade of racing in karts and lower formulae, this year has been his finest yet. He took no fewer than eight victories. Five of them came in quick succession during one stunning run at the Nürburgring and Red Bull Ring in September.
Mick now has the chance to add even more glory when he takes to the track against legends from all the major disciplines of global motorsport in identical supercars at ROC Mexico.
Schumacher said: "I am overwhelmed that I've been invited to participate in the Race Of Champions as the champion of the FIA Formula 3 European Championship. And I'm even more overwhelmed that I'm going to form Team Germany with Sebastian Vettel. It's going to be tough because Sebastian is a big player in the Race Of Champions and of course I want to be a worthy team-mate for him!
"I can't tell you how much I'm looking forward to the Race Of Champions weekend. Especially as it will be held in Mexico where this year's F1 World Championship was decided and everyone has seen how much Mexican fans can party in the spectacular Foro Sol. Now the ROC weekend will be just as spectacular for me. Such a debut at such an event is simply sensational.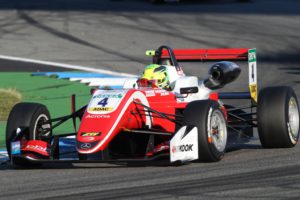 "I'm honoured to enter this competition which my father always loved and in which he set the bar very high together with Sebastian."
"There are so many renowned drivers in action and I'm looking forward to competing against them and getting to know them better; I'm looking forward to the fun we'll all have together and which we'll offer for the spectators in Mexico. But of course, I'll do everything to get far in the individual event and to win the ROC Nations Cup trophy with Sebastian for Team Germany!"
ROC President Fredrik Johnsson added: "We can't begin to express how thrilled we are that Mick will be racing at January's ROC Mexico. His father Michael has been a friend of the Race Of Champions for many years. And of course, his contribution both on and off the track has been immense. We continue to wish him well in his recovery, and I can't think of a finer legacy than to have Mick racing with us for the first time.
"Of course Mick is here entirely on merit, having shown the world what he can do all season en route to the FIA F3 European Championship. Now we are excited to see what he can do in the identical supercars at ROC Mexico. When Mick lines up with Sebastian Vettel for Team Germany in Saturday's ROC Nations Cup, it is sure to be an emotional moment. Imagine the roar from the crowd if they can find a way to lift the trophy…
"If you want to be a part of this historic occasion at Mexico City's stunning Foro Sol, we look forward to welcoming you. See you in January!"