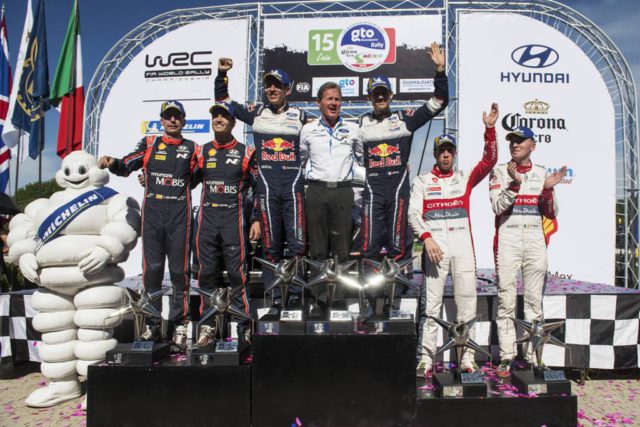 Sébastien Ogier and Julien Ingrassia took their fourth Rally Mexico victory – on the tenth anniversary of their FIA World Rally Championship debut.
The French pairing has long had an affiliation with this event, and that continued this weekend as they displayed all the attributes of a five-time World Champion.
Patience, focus, speed and determination – Ogier used them all to overcome the disadvantage of an unfavourable road position through the opening stages
Making the best of every situation, he chose his moments perfectly.
Whilst having to contend with some of the loosest gravel through the opening speed tests, a stunning drive saw him limit the potential time loss – ending the day just 31 seconds adrift of the lead.
With a slightly improved road position on the second day, he pushed hard – four fastest stage times transforming fifth place and a 31-second deficit into first place and a 35.9-second advantage.
Embarking on the final day of competition, Ogier not only managed but increased his advantage – securing a second victory for the EcoBoost-powered Ford Fiesta WRC by more than a minute and regaining the lead at the head of the championship standings.
"Fantastic! Every year @RallyMexico is a special place for me. Even though we knew this weekend would be tough, we never gave up and with Julien we did a very strong performance. We also score a few points in the Power Stage, so that's great!" #WRC ?? pic.twitter.com/sbP4D49NLw

— Sébastien Ogier (@SebOgier) March 11, 2018
"I'm super happy and this win is a fantastic way for me and Julien to celebrate our tenth year anniversary in the FIA World Rally Championship"
"It started in 2008 with a win in the Junior category and so many great things have happened here since then – this win, I think, being one of the best", Ogier said.
"This weekend we really gave it everything. Julien was perfect, and the team were so strong as well. The victory is great of course, but it's the performance that was really good. We've made such a big improvement from last year, and that is a big positive for the rest of the season."
"I was pretty much on the limit all weekend. When you're early on the road you're trying your best but the time is still far away from those starting behind. There's always some frustration coming with that, but you have to keep going and not give up."
"That's what we did, and on the second day – when our road position was a bit better – we kept pushing and were able to take the lead in the afternoon."
"We can be very proud and there's not a lot we could have done better. We gave it everything – right up until the final stage."
"I'm also very pleased because I think we improved a lot since last year, the car seems faster on gravel. Together with Ford our engineers have done a good job to prepare this rally, at high altitude, now we have to see in Europe if we improved the same. That's good sign anyway!"

— Sébastien Ogier (@SebOgier) March 11, 2018