While many look back over the year during the festive season, Lotus looks sideways in the #DriftmasEvora.
The engineering elves at Lotus wanted an ingenious way to transport a Christmas tree. And they found a 410hp sleigh to do it – the Evora GT410 Sport.
The first-ever #MerryDriftmas video, created by the company, sees a festive delivery with a difference. The whole filming process happened on site at its Hethel home in Norfolk.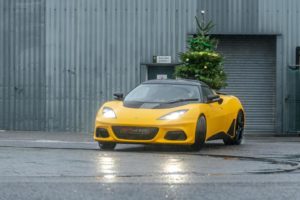 Most Christmas trees travel strapped to roof racks or stuffed in car boots. The engineers knew they could do it differently with carbon fibre, a little welding and a lot of burning rubber. They used closed roads and had an understanding of the security guard. The two-minute video encompasses the whole facility. It even includes two of the marque's most famous cars (and a bike). Extra points for your viewers if they can spot and name them.
Intended as a light-hearted way to mark the festive period, the video celebrates sports cars and the pure pleasure of driving. This film was created on closed roads using professional drivers, and no attempt should be made to recreate the driving shown.
#MerryDriftmas from Lotus, courtesy of a 410hp #DriftmasEvora sleigh and some clever Engineering elves. https://t.co/euNvfcdvJF pic.twitter.com/KqX2Rndyzs

— Lotus Cars (@grouplotusplc) December 19, 2018