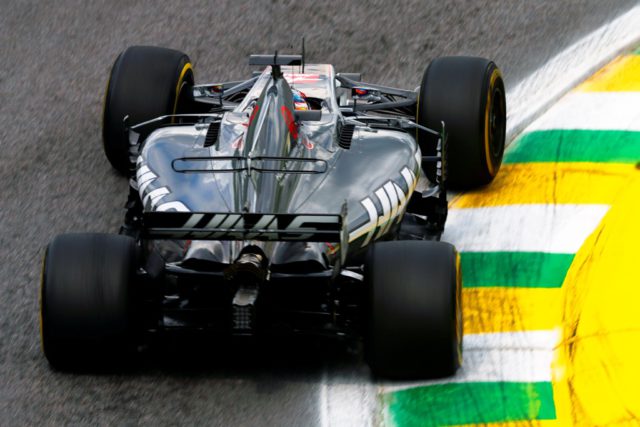 Guenther Steiner compares 2017 to the first year of Haas in Formula 1. The American team's principal also looks forward to the last race of the season.
Abu Dhabi is the season finale, and it's also the finale of Haas F1 Team's sophomore year. After having to build brand new racecars in back-to-back seasons under two sets of very different rules packages, how does this year compare to last year?
"It was very similar. The first year we had to build a new car completely, and the team, but we had a little bit more time. This year, again, we had to do a completely new car – we already had the team built up – but we still had to optimize it. The intensity was almost the same, but when I think about our 2018 car, the intensity is the same again. I don't think there's a lot of change in whatever you're doing in Formula One. Everything is always on the edge, everything goes to the last minute, and it's all at the highest level."
Were there any key learnings from last year that you applied to this year, be it in car construction, personnel or even race weekend protocols?
"You need to better yourself in every little detail. There is not one big thing that I would say we would do completely different, but there are a lot of things you optimize with hindsight."
Regardless of the outcome in the Abu Dhabi Grand Prix, Haas F1 Team will have surpassed its point tally from 2016 by 18 points. Are points scored the surest, most tangible examples of progress, or are there other elements of progress not everyone is able to see from the outside?
"I think points tell something, but not everything. Even if we race the same teams, there are different levels of performance. I wouldn't have said we've gotten better if we had less points, but looking in from the outside, I think we've made progress at all levels. We wanted to better our position, but at this moment in time, we are equal, so sure we will try to get better in Abu Dhabi. I was hoping to better our end-of-season position by one spot."
Prior to 2017, there were those who proclaimed that your second season would be harder than your first. Was this accurate, or were the challenges just different?
"The year-to-year challenges are different. We have to adapt as we do this. If you cannot keep up with the challenges, you shouldn't be working in Formula One. The second year is always more difficult, but we knew this in year one. I think we successfully worked in year one so we didn't fall back in year two."
What were the team's challenges this year?
"The challenge is just to optimize everything and find the weak spots where we can gain performance with the least amount of changes."
What were the team's strengths?
"We've been working together now for over a year – over two years with some people – so it's just like we know each other better and we know what to expect. We know each other's limits. That helps a lot when you do things. We're well covered personnel-wise. We have enough people who are part of the team that we can lean on."
The way Haas F1 Team is set up is unorthodox, at least by Formula One standards. Does the team's success in its second year validate Haas F1 Team's approach?
"It shows this is a model that is, at least, not wrong. If there is a better model out there – for sure, there is always something better – but our model works. What we set out to do, we're doing."
While the drivers and constructors championships have been decided, the midfield battle is still very much alive heading into Abu Dhabi. Haas F1 Team is currently eighth in the constructors' standings, with seventh just two points out and sixth only six points away. Is bettering your point standing still possible?
"Absolutely. We will have a go at it. In Brazil, without the two accidents on lap one, I think we'd have had a good chance to get some points. Then again, we didn't do it, so it's just 'if' and 'would'. We will, for sure, try hard in Abu Dhabi."
Is there a particular moment from this season that stands out the most for you?
"I think finishing with two cars in the top-10 in Japan, where a lot of people had written us off already in the season. Finishing eighth and ninth wasn't so bad."
When the season starts, Abu Dhabi seems very far away, yet here we are. Has the season gone by quickly?
"Life has gone by quickly this year, not only the racing season. It's an intense schedule. We do a lot of work and a lot of travel, and that's not only for me, that's for everybody on all the teams. Everybody puts in a lot of effort to put this show on the road. The season goes by quickly, and life goes by quickly."
Yas Marina Circuit is a showplace. What makes it stand out on the Formula One schedule?
"First of all, it's the last race of the season, so that makes it stand out a lot. As a facility, it's very nice and the location is very cool. Being there is a nice end to the season. It's warm while it's cold everywhere else where the teams are based."
With the race beginning in the late afternoon and ending at night, how much does the track change as the air and track temperatures cool and, in turn, how does that affect tire management?
"When you go into the race weekend, we know which practice sessions to count on, and the ones that don't count toward the race, where the ambient and track temperatures are hotter than in the race. We just adapt to that."
As you head into the offseason, how much "off" is there, or is that just a misnomer because preseason testing tends to arrive quickly?
"It arrives so quickly. Looking at my personal schedule, I've got just one weekend off between now and Christmas. The rest still involves travelling and doing things to get ready for next year. That's part of the job. This season is nearly done, but 2018 really started three months ago. We just keep on going. I hope some of the race team, like the mechanics, who for sure work a lot harder than I do, can get a few weeks off so they're ready to go for next year."
As we look ahead to 2018, how different is next year's car in terms of design with the addition of the halo?
"The addition of the halo is new to Formula One, but all the rest of the car stays very similar. The regulations have changed very little. Aesthetically, it's almost nothing, except the halo and the sharkfin. I think it will look different, but we'll get used to it pretty quick."
What are the implications for the halo in terms of weight and the car's overall aerodynamics?
"The weight of the halo is the same for everybody. On the aero development, it's just one more part the aero group has to get into their development program to try and get the best out of it. It's nothing too special. They're used to the challenge. It's just a new element introduced into their playing field. They will play with it to try to get it as efficient as they can."
"Connecting @Haas_Automation with @F1 in name and in practice is the best way to grow our business and elevate Haas Automation to a premium, global brand." – Gene Haas #ThursdayThoughts pic.twitter.com/JtmTfikTWA

— Haas F1 Team (@HaasF1Team) November 16, 2017