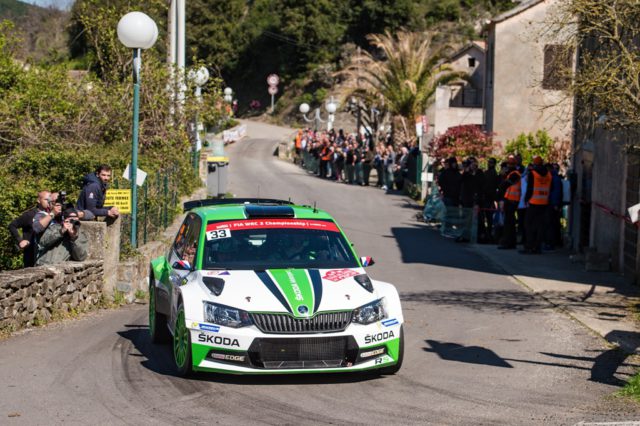 Andreas Mikkelsen had his second rally in this years' WRC2 with Skoda and he won another victory in the category after Monte Carlo. The Norwegian was in total control at the Tour de Corse. He was fastest in 7 of the 10 stages and after opening a gap of 70sec on the first day, was just keeping it during the next two legs.
"My weekend was pretty good. I have to say that we are very satisfied with the result and happy for Skoda to get another win. It started off very well having a nice fight with Eric Camilli. He was doing a very good job. Sadly on stage 3 he made a mistake and then we managed to get a good gap and after that it was more or less to try to maintain that gap over the weekend", Mikkelsen explained.
"But it was also a difficult weekend because driving without a gravel crew was a new experience for me. Well, not new but it was a long time ago since I didn't have it so… It was quite a different way of driving because you have to go into every corner with some safety margin in case there is some gravel. So in the end the stage time is not so good but it's the way to drive if you want to drive fast and clever. So that was a little bit different to what I was used to."
"Normally I am used to knowing exactly how the conditions are on the corners and you can push to the maximum. But not pushing to the maximum around the corners and driving on the safe side is a bit frustrating but it was the correct way to do it."
Andreas has no clear plan for the rest of the season. He repeated that the aim is to be in a WRC car but until that is possible, would be happy to drive as much as possible.
Andreas Mikkelsen: "I am just happy to get all the opportunities I can"
"Of course I would like to be back into a World Rally Car as soon as possible. But until that happens the more I can drive the happier I am. I have no intention of doing the whole WRC 2 Championship and hope to be back in a WRC car before that. I will do the recce in Argentina and we will see when I will be back behind the steering wheel. Hope it is soon."
Andreas' co-driver Anders Jæger also said the rally was good for the crew.
"For sure I have been talking a lot!", he laughed. "It's been a good rally, nice weather, good to be in Corsica with the sun on Friday, Saturday and even Sunday so that's a nice feeling. Other than that we have a good thing going on with Skoda. They give us a drive and we can provide them with yet another win so we are all very happy with that."
"Besides, Corsica is a special addition in the calendar. Few stages, long stages, it's very demanding and one mistake would cost you a lot of time. So it's all about getting a good rhythm, being safe and fast at the same time of course as always. It's a fun rally and it's very good to be on top for sure."
#TourdeCorse winners celebrations! Big thanks to @MotorsportSkoda for giving us the opportunity to another win! #WRC2 #FightbackToWRC pic.twitter.com/PxSckSXIsz

— Andreas Mikkelsen (@AMikkelsenRally) 9 April 2017