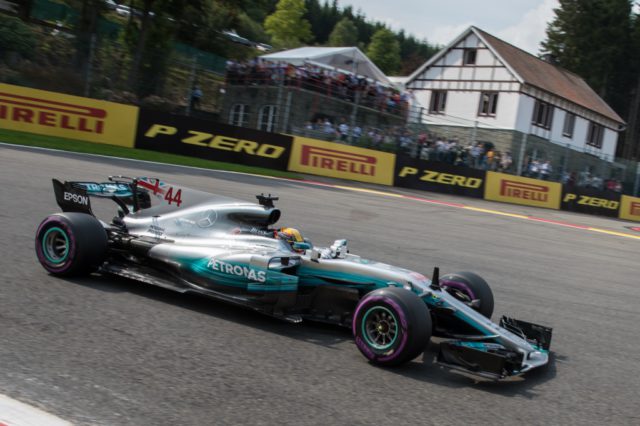 Lewis Hamilton claimed his 68th career pole position – equaling Michael Schumacher's all-time record. He will start the Belgian Grand prix from first position and his teammate Valtteri Bottas is third, passed by Sebastian Vettel (Ferrari).
Lewis Hamilton
I'm really happy and grateful. The past few weeks have been great and I've carried the positive energy from my holiday into this weekend. Until I crossed the line and got the pole I hadn't really realised that I had matched Michael's record. It's crazy to think that in 1996, when I was eleven years old, I came here to watch Michael – and now I've equalled his record. I'm honoured to be up there with him now and starting the second half of the season this strong is an amazing feeling. I have not really had any bad laps this weekend. But it's going to be tight tomorrow. Ferrari's race pace looked good yesterday, so I think it will be a lot closer tomorrow. The rundown to Turn 1 is short, but pole is still the best position to start from. I will try to make it work tomorrow.
I'm honoured to have raced with you. Equaling your pole position record is a dream come true. I pray for you and your family all the time-LH pic.twitter.com/dtopvF5zvZ

— Lewis Hamilton (@LewisHamilton) August 26, 2017
Sebastian Vettel
"I had a very good feeling already in Q1. During Q2, the main task was to get through and then in Q3 I was just about ok with the first run, but struggling a bit. However, my last run was better. I am happy with today's result. I think we achieved something that some people didn't expect from us. The pace was very good and I am really looking forward to tomorrow."
"It will be a long race with a lot of laps and a long track where more or less everyone has had problems with the tires during the weekend. As for the extension of my contract with Ferrari, I am very happy for that. I love this team. Two years ago we said we wanted to get back on top and I think we are on the right road. We aren't where we want to be yet, but we are striving for the top. I am very happy we keep working together. I want to achieve a lot with Ferrari and think it's the same on the other side. And I want to keep racing in red!"
Valtteri Bottas
First of all, congratulations to Lewis for his 68 poles, that's a mega achievement. Unfortunately, I didn't have the pace to fight for the pole today. I'm not sure about the reasons; I'm slightly confused as to why I haven't been able to get closer. We will need to look for a few more answers in the data. The balance in the car felt good, but I was lacking grip, so I was particularly struggling in the high-speed corners of sector two. I felt a lot more comfortable in the car with high fuel, so that's good for tomorrow. Driving the 2017 car around Spa is mega – it's so quick. We are both starting in the top three, so as a team we will still try to achieve our target and that is a 1-2.
68th pole of his career (ties all-time record)

4th pole at Spa (ties all-time record)@LewisHamilton's historic lap ?#BelgianGP ?? pic.twitter.com/CcjKpbMZlU

— Formula 1 (@F1) August 26, 2017
INITIAL CLASSIFICATION (END OF QUALIFYING): Confirmation of an incredible performance by @LewisHamilton #Quali #BelgianGP ?? #F1 pic.twitter.com/PkzPT5BIVo

— Formula 1 (@F1) August 26, 2017