Lewis Hamilton scored his 69th career victory– his seventh of the 2018 Formula One season and fourth at the Marina Bay Street Circuit. Valtteri Bottas came home in P4, helping the team to extend the lead in the Constructors' Championship. The result marks Lewis' 80th podium with Mercedes and the 10th podium for Mercedes in Singapore.
"Singapore has been our bogey track for several years, so it is a special feeling to come here and win this race on pace", commented Mercedes motorsport Toto Wolff.
"The entire team has worked so hard to understand the car and take steps forward, especially since our defeat in Spa, and this result is an indication that our work is paying off. We prepared well for this weekend, came here determined to make a step and we delivered. It was a weekend of many parts: a stardust lap from Lewis in qualifying, a chess game of tyre management this evening, and some nervous moments with traffic and backmarkers during the race – but in the end, we outscored our rivals for both championships and delivered a really satisfying result."
When you wake up the next day and wonder if it was all a dream and you were sleepwalking around your bedroom rather than watching @LewisHamilton floating out of that car but then realise it really did happen and you were there and ohhhh yyyyeeeeeaaaahhhh!!!!#F1 #SingaporeGP pic.twitter.com/YFbpY0w9f7

— Mercedes-AMG F1 (@MercedesAMGF1) September 17, 2018
"There will be many discussions about backmarkers, who had a big influence on both drivers' races; I think this is a topic for the drivers to discuss among themselves, but perhaps there is a way to optimise those blue flag rules on street circuits like this. From our side, we can be pleased with a very solid weekend. We have leads in both championships. But they change nothing in the mindset of this team. We have six weekends to go and we know how quickly the situation can swing back against us. We will take it weekend by weekend, feet on the ground and determined to maximise our potential every time."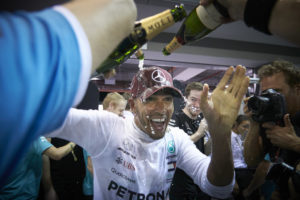 Technical director James Allison added that a wonderful feeling of contentment washed through the whole team
"More importantly, we have put right the weaknesses that have plagued us at this circuit for a number of seasons and validated a lot of the theories and analysis of why we have suffered previously. This sport can beat you up like happened recently to us in Spa, but it is days like this that remind us why we are so very fortunate to work in Formula One. But this feeling, too, will last for about 10 more minutes before we begin fretting about Sochi because our competition is desperately strong and the remaining races cover a very wide range of challenges. We are all aware that we need to keep having weekends like this one if we are to finally achieve the results that we so crave", Allison said.
"One day I will look back on days like this and tell the kids or the grandkids that 'I used to do that,' and they're not going to know how cool it was…" ? pic.twitter.com/sUpWdImi3Z

— Mercedes-AMG F1 (@MercedesAMGF1) September 16, 2018