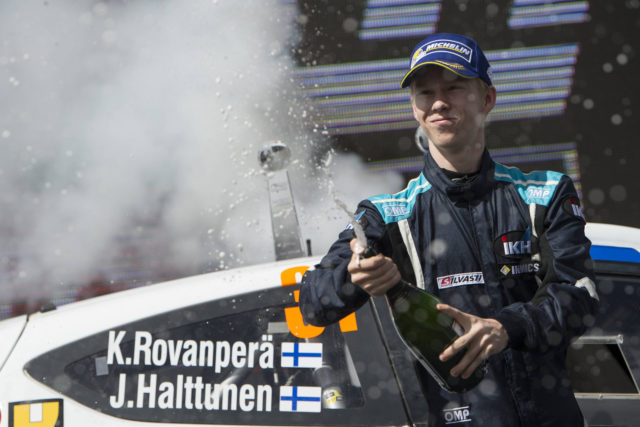 Travel is never far from the minds of most 17-year-olds. The gap year's beckoning and there's a whole wide world out there to be explored before hitting the books again. Kalle Rovanperä is no different. He's interested in travel. But you can keep the gap year. And the books. Kalle's trip to Australia last week was all about one thing: becoming the youngest ever winner of a WRC2 round.
Provided he kept his M-Sport Ford Fiesta R5 on the road and in one piece, the odds on a maiden category success for the teenager were pretty good: he was the only starter in the WRC2 class.
"The competition wasn't so good," said the son of one-time world rally winner Harri Rovanperä, "but the experience was incredible."
Rovanperä Jr is the latest flying Finn preparing for take-off
But he first captured the imagination of the rally world nine years ago when footage of him driving a Toyota Starlet went viral.
He turned 17 on October 1, passed his driving test on October 2 and started his first ever World Rally Championship event in Wales just 25 days later. With Rally GB done, it was time to travel down under.
Before the journey, Rovanperä wasn't sure what to expect. "I only took one long-haul flight before. I was nine, so I don't remember so much," he said. "Australia will be new one for me."
By his own admission, Rovanperä doesn't go a day without riding or racing something with an engine. Admittedly, he would be surrounded by four of the most powerful engines in the world while riding at 900kph. But sitting still for a day's not his idea of fun. Out the other side, it wasn't too bad.
"It wasn't too good, either," he grimaced. "But, OK, sitting down for nearly one day, I think I managed it. I downloaded some Netflix, watched some films and then just tried to chill and sleep for as long as I could."
Rovanpera is regularly tipped as a future world champion, but for now, there are no frills in his flying
He came from Helsinki to Hong Kong to Sydney to Coffs Harbour at the back of the plane. "It wasn't so bad," he said. "Quite comfortable."
Harri was relieved. He said: "When I took him to Mexico, we went to drive Studebakers. He liked that bit, but when he got off the plane home he said: "I don't ever want to do that long flying again!"
Driving a cutting-edge Ford Fiesta R5 through some of the world championship's best bits of road is a pretty good incentive. And the trip was more than worthwhile.
"It's nice to have the record for the youngest winner in WRC2," he said. "I don't think that record will be beaten too soon!"
He was 17 years and 50 days when he sprayed New South Wales with champagne he couldn't drink
"I was really pleased with the pace," he added. "We knew the gap between the best in R5 and the overall leader on other rallies and our gap was similar. I'm happy with that."
"And I really enjoyed Australia. The only thing was the jet-lag, which got me for about five days. I didn't mind so much waking up early, but in the middle of the afternoon I was so tired – the power was completely off."
"I stayed in Sydney for a day before the start. We went to some zoo, which was OK. After that, we were in Coffs Harbour, where the rally was based. I went into some sort of jungle – that was where I saw my first snake."
"I'm not bothered by any of the wildlife, but my co-driver Jonne (Halttunen) was shouting when he saw even a small spider. Australia is a cool place, definitely worth the day on the plane. The people are really nice, the weather is better than home right now and I had a good time. But now it's a long way home…"
Rally is Australia is now finished for us! It sure was a great event and we really enjoyed it especially when it was dry!
Also this was our first WRC2 win! not the way we wanted to have it but atleast now the first one is out of the way!

? Jaanus Ree / Red Bull Content Pool pic.twitter.com/xHmE1XAOY3

— KalleRovanperaRacing (@KalleRovanpera) November 19, 2017