Citroen Racing took in Mexico its second win of the 2019 WRC season. Team principal Pierre Budar summarizes the event.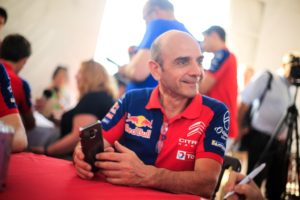 We're delighted with it because it is the result of an excellent team effort! Winning here is no easy feat. The combination of high altitude and hot temperatures make it the ultimate challenge for man and machine alike. But everyone was on the ball throughout the weekend and this win is just deserts for our hard work.
This event remains unusual, but it's also always positive to win the championship's first round on gravel because it's the surface on which the majority of the rallies are held and although we can't afford to rest on our laurels, it is confirmation that we are right in the mix with the C3 WRC. Three podiums in as many races – we really couldn't have hoped for a better start to the season with our two new crews. Obviously, all of this wouldn't have been possible without a magnificent performance by Sébastien Ogier and Julien Ingrassia. Every day, they showed off their full array of qualities: speed, race craft, ability to react and management skills too. We knew it already, but they really do have it all!
Hats off!
Citroën #C3WRC takes 1st place at the WRC #RallyMexico and brings back its 101st win ?. Congratulations to @SebOgier and Julien Ingrassia, and to all of the @CitroenRacing Team #100YearsOfFans
Inspired by Mexico ?? pic.twitter.com/HW3Qwy5lpk

— Citroën (@Citroen) March 11, 2019
What did you make of Esapekka Lappi and Janne Ferm's race?
They made a minor error that proved very costly. But I prefer to focus on the way in which they got to grips with the difficulties of the Mexican roads. They haven't fully mastered them yet, but they gradually upped their game and managed to set a very respectable pace. They had a very good feeling in the C3 WRC on gravel and that augurs well for the rest of the championship.
The highlight of the weekend
Thomas Breton, Sébastien Ogier and Julien Ingrassia's race engineer, looks back on the opening leg of the rally, perfectly negotiated by his crew.
"They really impressed me on Friday. Obviously, our road position was better than that of [Ott] Tanak and [Thierry] Neuville, but there were others who tackled the stages on even cleaner roads. It's also true that these sorts of conditions are always difficult to work on and reproduce in testing. We gave them an easy car to drive and they made very good use of it! They have this incredible ability to adapt their rhythm to the circumstances, to push a bit more whenever it's necessary and to control their pace when it's not the right moment to take any unnecessary risks."
?? @SebOgier & #JulienIngrassia were on a mission this weekend at Rally Mexico onboard their #C3WRC! Enjoy the highlights of our 2nd win this season! ??#WRC pic.twitter.com/ncIry50m1x

— Citroën Racing (@CitroenRacing) March 11, 2019