Romain Grosjean finished sixth in the 2016 Australian Grand Prix. That was Haas's first F1 race, and it stands as the best debut for any Formula One team since 2002 when Mika Salo finished sixth for Toyota, also at the Australian Grand Prix. Now the French driver is ready for the 2019 race in Melbourne.
Haas tested at Circuit de Barcelona – Catalunya for eight days over a 12-day span. How did it go and how did it prepare you for Australia?
"It went very well. The most important thing was to get a good feeling in the car early on. When you get that good feeling, you know the car is well born. That's important to start the season – to be able to start on a high. It went well. Reliability, we had a few issues, but we've been working well to sort them out. I believe we're now ready to attack the first race in Australia. Obviously, there's always more and more you want to do, but then it's becoming circuit-specific. Now it's about getting the baseline setup in Melbourne and then fine tuning for Bahrain, China and so on."
Did testing provide a glimpse of where Haas stacks up to the competition, or will it only be known after a handful of races?
"I think we've got a first idea, but it's really difficult to read too much into it. I'd rather wait for the first few races to know where we are."
Another amazing day in beautiful Australia ! ?#r8g #Australia #nature ??? pic.twitter.com/USuCSDJzFp

— Romain Grosjean (@RGrosjean) March 11, 2019
How would you describe the VF-19, especially in comparison to last year's car?
"It's very sexy. It's a beautiful car. It handles very well. The feeling in the car is better than it was last year. I think the team has done a really good job on its understanding of the new front wing and getting ready for the season to start. I'm really looking forward to driving the car on different kinds of circuits."
The new rules package essentially consists of simplified front and rear wings and less intricate, repositioned bargeboards – all of which were done to minimize a car's aero wake and promote passing. After two weeks of testing, do you feel we'll see more passing this season and, specifically, more passing in the Australian Grand Prix?
"I don't know. I haven't had the chance to follow another car yet. The Australian Grand Prix is always a race where there's very little overtaking. It's just the nature of the circuit. It's such a great grand prix, it almost doesn't matter. Kevin (Magnussen) was very enthusiastic when he followed another car, but I haven't had that chance. The only thing I noticed is when you don't use the DRS, you feel very slow on the straight compared to when you do use it. Therefore, we could see a fair bit of overtaking with DRS. Again, we'll need to wait and see."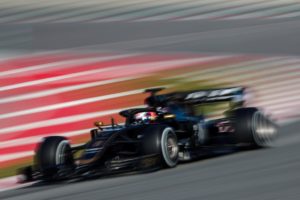 Haas's debut in the 2016 Australian Grand Prix was pretty remarkable, with your sixth-place finish the best debut for any Formula One team since 2002 when Mika Salo finished sixth for Toyota, also at the Australian Grand Prix. Can you describe that moment and what it meant for you and the team?
"It meant a lot. It was a result we were clearly not expecting after a tough qualifying. We had a brilliant race. When we took the checkered flag, for us, it was clearly as good as winning the race. It was fortunate but perfect."
What is your favourite part of the Melbourne Grand Prix Circuit?
"I love the backstraight with the high-speed corner – turns 10 and 11."