Colombia's 2015 Indianapolis 500 winner Juan Pablo Montoya put in a stunning performance to eclipse 16 fellow stars of motor sport and earn the title 'Champion of Champions' for the first time. This year's ROC is at Miami's Marlins Park.
The individual Race Of Champions pitted many of motorsport's biggest names in identical cars. The best-of-three Grand Final boiled down to a battle between two of the biggest stars of world motor sport. But in the end ROC debutant Montoya saw off 'Mr Le Mans' Tom Kristensen in two straight heats to become Champion of Champions in front of 15,000 race fans in Miami.
Kristensen was making a record-equalling 15th consecutive Race Of Champions appearance, matching the mark set by rally legend Stig Blomqvist. The nine-time winner of the Le Mans 24 hours has now reached the Grand Final no less than five times. But he has never won the big prize. By contrast Montoya was making his ROC debut here in his home town Miami.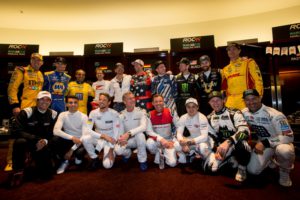 The drivers were earlier split into four groups of four. Travis Pastrana dominated Group A with three wins out of three, while Helio Castroneves made it through with two wins. In an early shock, reigning ROC Champion of Champions and four-time Formula 1 world champion Sebastian Vettel failed to get past the group stages. 2016 Indy 500 winner Alexander Rossi was also knocked out, shortly after prevailing in a qualifying race against Global Rallycross Champion Scott Speed.
In Group B Montoya and Massa took two wins each. They went through at the expense of double World Rallycross Champion Petter Solberg. F1 driver Pascal Wehrlein also won one of his heats but he failed to progress after dramatically crashing out of his last heat.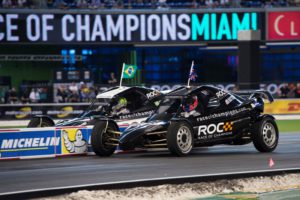 Jenson Button stormed through Group C with three wins, while Kyle Busch joined him in the semi-finals with two. It was a bad group for IndyCar stars as 2013 Indy 500 winner Tony Kanaan and last year's Indy 500 pole-sitter James Hinchcliffe both went out.
David Coulthard came away from Group D with a perfect record. He was joined in the final stages by Kristensen, who took two wins. NASCAR champion Kurt Busch was unable to join his brother in the quarter-finals despite a win over 2014 Indianapolis 500 winner Ryan Hunter-Reay, who also missed out on the latter stages.
In the pick of the quarter-finals there was almost nothing to split Kristensen and 2009 Formula 1 world champion Jenson Button. But the Dane won the third and deciding heat by just 0.06 seconds to progress. Coulthard knocked out NASCAR champion Kyle Busch, putting paid to the hopes of an American winner for the Miami crowd.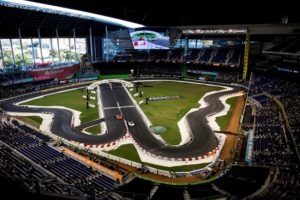 Elsewhere in the last eight Montoya defeated action sports legend Travis Pastrana in two straight heats, ending the American's unbeaten run. Massa won an all-Brazilian battle against triple Indianapolis 500 winner Helio Castroneves.
In the semi-finals, Montoya beat 11-time Formula 1 grand prix winner Felipe Massa 2-0. The Brazilian earned a time penalty for contact with the wall in one of the heats. Kristensen won through over 2014 Champion of Champions and Formula 1 star David Coulthard by the same margin.
In the end it was Montoya against Kristensen and the Columbian driver won.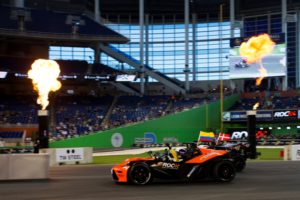 Juan Pablo Montoya: "An amazing event, it's unbelievable"
Montoya said: "First I want to thank all the fans who came out today. Fredrik Johnsson and everyone at the Race Of Champions have put together an amazing event, it's unbelievable. Today I'm regretting not having done this before. It has been an amazing experience.
"It's not our job, it's a fun event. But when you go to the grid you want to warm the tyres and the brakes. You think about how to drop the clutch, what to do in the first corner. It's unbelievable how focused you are. It's like qualifying. I don't know what gave me the edge. I don't have pride, I just kept asking people what they were doing. That way I kept adding things to the database of what I needed to do. I spoke to David Coulthard just before the final to ask whether I had to change gears in the cars because I had no idea. It went well… must be beginner's luck!"
Kristensen added: "I'm proud to have made it to the final and I enjoy it immensely to be here. I've been retired for two years but coming here of course you don't forget what you live for. We are racing drivers and to be invited to the Race Of Champions brings the best out of us. If you're too cautious you don't win but if you are too brave you can get it wrong so easily. But the camaraderie is special. You try to do your best and in the end all the races are extremely close so you never know beforehand who will win. So well done to Juan Pablo. I've known him for many years and I always knew he would have an exceptional career."