The 2019 Dakar Rally roars into life on January 6 starting with teams taking on 10 stages and just shy of 5,000km on some of the world's most hostile beaches, dunes and tracks in Peru.
The 41st edition of the iconic rally raid race sees competitors in the car, bike, truck, quad and UTV categories push themselves and their vehicles to the limit in only one country for the first time in the event's history.
Stars competing include 13-time winner Stéphane Peterhansel, defending car champion Carlos Sainz and Red Bull privateer Sébastien Loeb as well as bike trio Matthias Walkner, Sam Sunderland and Toby Price – all battling it out for the most prestigious off-road rally title on the planet.
#Dakar 2019 : @SebastienLoeb prépare son improbable retour pic.twitter.com/y8UyyUWAMy

— Tout Le Sport (@toutlesport) December 26, 2018
Competitors in the car and truck classes who retire from the first week will be able to rejoin the action in the second week, however, they will have their own classification so that the starting order is not confused.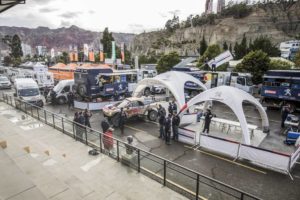 The Stages
SS = Special Stage, C = Car, B = Bike, T = Truck, Q = Quad, SxS = UTV
06/01/19 – Starting ramp / Lima
07/01/19 – Stage 1 / Lima – Pisco: 331 km (SS: 84 km)
08/01/19 – Stage 2 / Pisco – San Juan de Marcona: 553km (SS: 342km)
09/01/19 – Stage 3 / San Juan de Marcona – Arequipa: 798km (SS: 331km)
10/01/19 – Stage 4 / Arequipa – Tacna: (C,SxS,T) 664km (SS: 351km) + Arequpia – Moquegua: (B,Q) 511km (SS: 351km)
11/01/19 – Stage 5 / Tacna – Arequipa: (C,SxS,T) 714km (SS: 450km) + Moquega – Arequipa: (B,Q) 776km (SS: 345km)
12/01/19 – Rest Day / Arequipa
13/01/19 – Stage 6 / Arequipa – San Juan de Marcona: (C,SxS,T) 810km (SS: 290km) + (B,Q) 838km (SS: 317km)
14/01/19 – Stage 7 / San Juan de Marcona – San Juan de Marcona: 387km (SS: 323km)
15/01/19 – Stage 8 / San Juan de Marcona – Pisco: 575km (SS: 360km)
16/01/19 – Stage 9 / Pisco – Pisco: (B,C,Q,SxS) 409km (SS: 313km) + (T) 407km (SS: 311km)
17/01/19 – Stage 10 / Pisco – Lima: 359km (SS: 112km)
#Dakar1978
40 years ago, on the 26th of December 1978, the first Dakar Rally started from Paris! ??

Il y a 40 ans, le 26 décembre 1978, le premier Dakar s'élançait de Paris ! ??

¡Hace 40 años, el 26 de diciembre de 1978, comenzó el primer Rally Dakar desde París! ??#Dakar2019 pic.twitter.com/bShvXi4ytL

— DAKAR RALLY (@dakar) December 26, 2018