Sébastien Loeb visited Red Bull Knock Out in the Netherlands on Saturday to show off the Peugeot 3008 DKR car that he will now drive at the 2019 Dakar Rally. Originally he was not planning to compete at the 2019 Dakar Rally in Peru, however, decided recently to enter as a Red Bull privateer. His second place behind Stéphane Peterhansel in 2017 was his best result for Team Peugeot Total, therefore, the hunger still remains for a maiden win in South America to add gloss to his incredible list of motorsport titles.
The nine-time WRC champion pulled off a shock WRC cameo win in Spain last month, while he is fifth overall heading into the final 2018 FIA World RallycrossChampionship stop in South Africa later this month.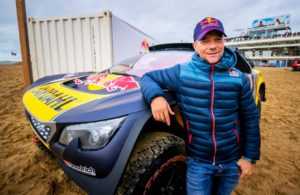 Loeb showed off the raw pace and new colours of his Peugeot 3008 DKR at the Scheveningen beach in The Hague
There Red Bull Knock Out brings the exciting 2018 World Enduro Super Series to a thrilling climax.
The 44-year-old took his car around the Red Bull Knock Out course as motorsport fans got to see how his Peugeot can cope with the sand that awaits him in Peru.
He revealed: "When I came back from the World RX of the United States, I could not sleep with the jet lag. I was browsing social media and I came across a video of MINI preparing for the Dakar so I said to myself, 'It could be nice to go play with them!' At that moment I did not suspect that Peugeot was going to withdraw from WRX, so at least I will have a race in 2019!"
Loeb, who will be partnered again by Monégasque co-driver Daniel Elena over the Peruvian sand dunes, added: "Going there without any pressure really tempted me and motivates me! To be an outsider has not happened to me often in my career and it is a feeling that I like for this adventure. We go, above all, to have fun."
Un premier petit aperçu de la BÊTE ! #3008DKR #Dakar #RedBull #Bardahl pic.twitter.com/noeyrFVeeO

— Sébastien Loeb (@SebastienLoeb) November 10, 2018