Gabriele Tarquini is the first winner of the WTCR – FIA World Touring Car Cup presented by OSCARO, beating Yvan Muller to top spot by three points in an all-action season showdown in Macau. This is what the Hyundai-powered BRC Racing Team driver has had to say.
How good does it feel to be the inaugural WTCR – FIA World Touring Car Cup presented by OSCARO title winner?
"I wanted to win because it was a long season, a tough season, the first season of WTCR. And I was leading for 90 per cent of the time. It's great and WTCR has been great. I must also thank Hyundai for choosing me in the beginning, all the BRC Racing Team, the mechanics and my team-mate [Norbert Michelisz]. And I also want to congratulate Yvan [Muller], who made a great job through the season. He was my toughest opponent. And I forgot to thank my family – my wife, my daughter and son!"
Did you expect to win at the start of the season?
"To be honest I expected to be fighting for the title. I already knew the car was very good but there are four Hyundais and the level of the others are very high, Norbi, Yvan and Thed [Björk] are very good. As I said at the beginning of the year it will probably not be the fastest guy who wins the title but probably the luckiest guy or the cleverest guy because it's a long season with 30 races."
After you retired in Race 2 did you think your title hopes were over?
"I won the title in the hardest way, by my mistake. I cannot blame anybody else, it was my mistake in qualifying. Without this it would probably have been easier, but with this mistake starting P14 in the second and third race I knew something could happen during the start. In the second race something happened because I was in a very good position, I overtook two or three cars. Somebody crashed in front of me, but we were stopping in the middle of Lisboa and they destroyed the back of my car."
"The third race, probably the worst start of my weekend, but I had a little bit more chance to survive in this corner. After the first lap 50 per cent of the job was done. It was quite tough because I had Thed behind me, it was quite hard, but the car was much faster than yesterday because yesterday I had some trouble with the performance of my car. It was tough, but it's even better than if it was easier."
How does this achievement compare to your other FIA World Touring Car title?
"It's on the top because the level of competition is probably higher than 2009 when it was more or less the SEAT drivers in contention. This is not like 2009 because it was a lot of fight with a lot of drivers. And with the Balance of Performance sometimes you are top, sometimes you are down and for everybody it's very tough to score points."
Is it true you considered stopping after that 2009 success?
"I have the memory nine years ago walking to the press conference with a world title, and I was thinking to stop racing because what do you want to achieve more than a world title? It's probably the best time to stop, but walking there I was thinking 'why should I stop, I want to race. I have the adrenaline, I am not very slow, I can compete again.' And I decided because SEAT stopped, to start again with a private team in 2010. It was a tough moment but nine years later I was playing for the title again. It's very strange but sometimes life is very strange."
Your title win must doubly satisfying because you played a big role in the development of the Hyundai i30 N TCR?
"It was a long preparation, it was a long effort from me but also from Hyundai, the engineers, the mechanics, the team. Everything was well prepared from the beginning, the plan was very good we approached this season in the best way. I am very proud what we did."
Yvan Muller has announced his plans to return to WTCR OSCARO in 2019. Will you come back to defend your title?
"To be honest, I don't know yet. I want to cool down. I'm 56, I'm still quite fast, probably a little bit more clever than when I was younger. This is my third world title because I won one in karting. I don't think that I want to stop, so if Hyundai would be pleased to let me continue, I will continue."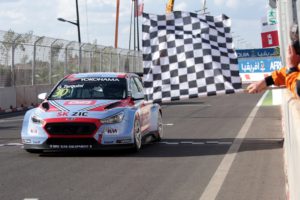 Five facts
Touring car titan: An ex-Formula One driver with 37 grand prix starts to his name, Tarquini has been a touring car titan for more than two decades with his technical prowess and a no-nonsense driving style key attributes.
Euro-beater: After winning the British Touring Car Championship in 1994, Tarquini took the European series by storm, claiming six wins on his way to 2003 title joy.
World success: Tarquini became World Touring Car champion with SEAT in 2009. Although there would be no more titles, the Italian was a race winner in six of the seven seasons that followed, including two triumphs with LADA in his final full-time campaign in 2016.
Unwelcomed return: While racing in the WTCC was always Tarquini's preference, the circumstances surrounding his 2017 comeback with Honda in China were far from ideal after he was drafted in to replace his injured friend and former team-mate Tiago Monteiro.
Did you know? Tarquini has played a key role in developing the Hyundai i30 N TCR into a winner having signed for the make as its development driver in 2017.
DOB: 02/03/1962
Nationality: Italian
TEAM: BRC Racing Team
CAR: Hyundai i30 N TCR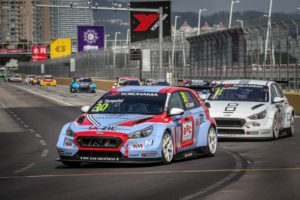 Career so far:
1983: 1, European and Italian karting
1984: 1, World and Italian karting
1985: 6, Formula 3000 Championship
1986: 10, F3000
1987: 8, F3000; Formula One World Championship (Osella)
1988: (best result 8), F1 (Coloni)
1989: 5 (1 win), Italian Super Touring Championship (BMW M3); (best result 6) F1 (AGS)
1990: (best result 13) F1 (AGS)
1991: (best result 8/11) F1 (AGS/Fondmetal)
1992: 5, Italian Super Touring (BMW M3); (best result 14) F1 (Fondmetal)
1993: 3 (5 wins), Italian Super Touring (Alfa Romeo 155)
1994: 1 (8 wins), British Touring Car Championship (Alfa Romeo 155)
1995: 7 (2 wins), Italian Super Touring (Alfa Romeo 155)
1996: 14 (1 win), International Touring Car Championship (Alfa Romeo 155)
1997: 6 (1 win), BTCC (Honda Accord)
1998: 7 (1 win), German Super Touring Championship (Honda Accord)
1999: 4 (1 win), German Super Touring (Honda Accord)
2000: 6 (3 wins), BTCC (Honda Accord)
2001: 3 (9 wins), European Super Touring Championship (Honda Accord)
2002: 14 (best result 3), European Super Touring (Alfa Romeo 156)
2003: 1 (6 wins), European Super Touring (Alfa Romeo 156)
2004: 3 (6 wins), European Super Touring (Alfa Romeo 156)
2005: 7 (2 wins), FIA World Touring Car Championship (Alfa Romeo 156)
2006: 5 (1 win), WTCC (SEAT León)
2007: 8 (1 win), WTCC (SEAT León / SEAT León TDi)
2008: 2 (3 wins), WTCC (SEAT León TDi)
2009: 1 (3 wins), WTCC (SEAT León TDi)
2010: 2 (5 wins), WTCC (SEAT León TDi)
2011: 5 (1 win), WTCC (SEAT León TDi/SUNRED León 1.6T)
2012: 4 (1 win), WTCC (SEAT León)
2013: 2 (2 wins), WTCC (Honda Civic)
2014: 6 (1 win), WTCC (Honda Civic WTCC)
2015: 5 (best result 2), WTCC (Honda Civic WTCC)
2016: 9 (2 wins), WTCC (LADA Vesta)
2017: NC, WTCC (Honda Civic WTCC); NC, TCR International Series (Hyundai i30 N TCR)
2018: 1 (5 wins), WTCR – FIA World Touring Car Cup presented by OSCARO (Hyundai i30 N TCR)