The Abu Dhabi Grand prix is the 21st, final round of the 2018 Formula 1 World Championship.
Total number of race laps: 55
Complete race distance: 305.355 kilometres (189.739 miles)
Pit lane speed limit: 80 kph (50 mph)
This 5.554-kilometre (3.451-mile), 21-turn circuit has hosted Formula One since 2009, with last year's Abu Dhabi Grand Prix serving as the venue's ninth grand prix.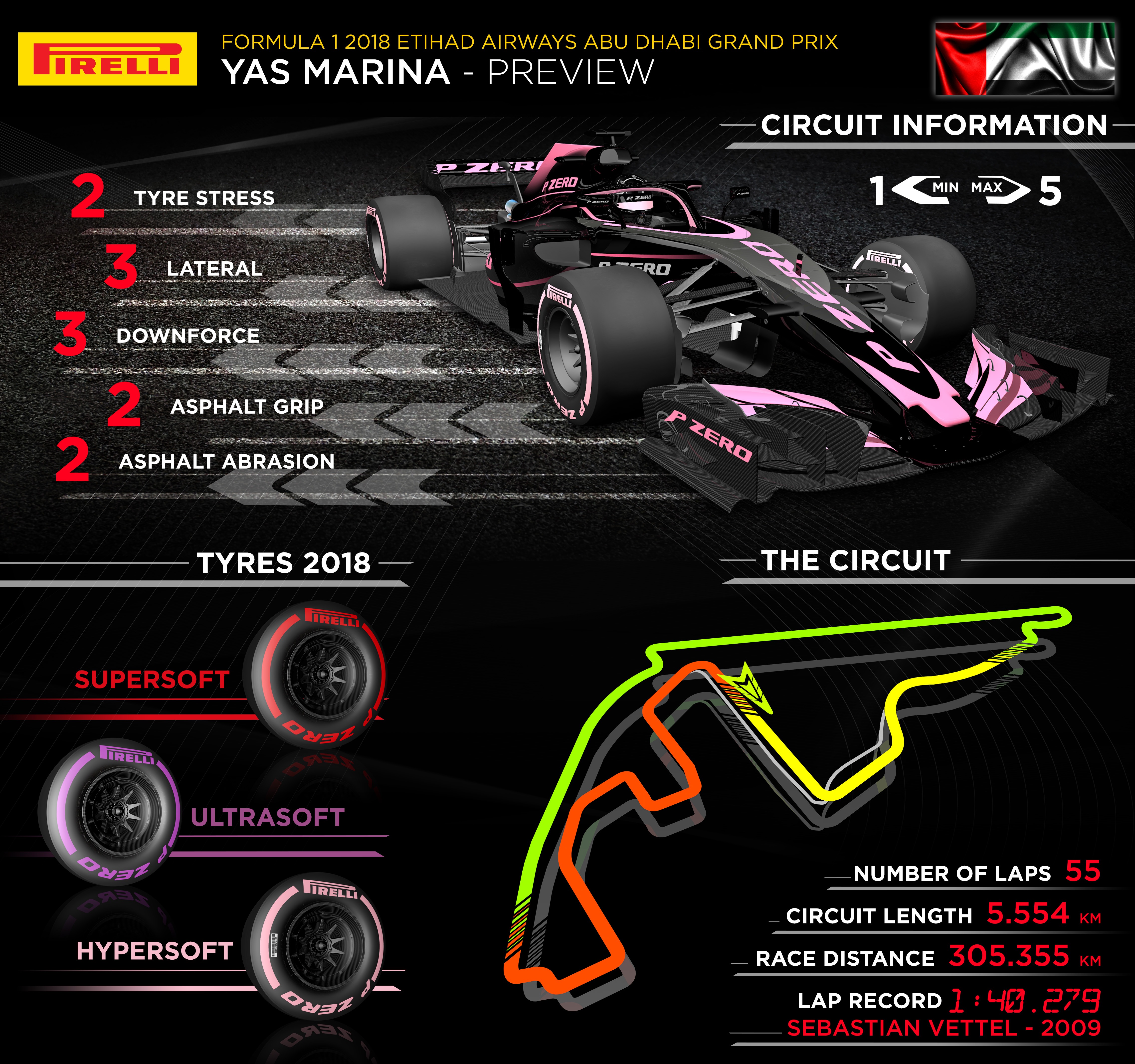 Sebastian Vettel holds the race lap record at Yas Marina Circuit (1:40.279), set in 2009 with Red Bull.
Valtteri Bottas holds the qualifying lap record at the Yas Marina Circuit (1:36.231), set last year with Mercedes in Q3.
After 17 years and more than 300 races, it could be @alo_oficial's last F1 race on Sunday ? He's given us a lot over the years… including some superb GIFs!

Here we have a rare example of a GIF you can actually hear. TOMA. ? pic.twitter.com/dZuFeU6aPP

— Formula 1 (@F1) November 19, 2018
The Yas Marina Circuit is a showplace
And it should be, considering it is widely believed to be the most expensive Formula One track ever built. Some estimates top $1 billion. It is a purpose-built facility on a man-made island. And it is also one of the many new Formula One circuits designed by Hermann Tilke. The circuit is less than a decade old. It features a counter-clockwise layout that boasts a top speed of 335 kph (208 mph) and an average speed of 195 kph (121 mph).
It has nine right turns and 12 left turns on a waterfront course that rivals Monaco and Singapore. Its extravagance and uniqueness is best highlighted by these attributes: the pit lane exit passes underneath the circuit via a tunnel and the garages are air-conditioned. Yas Marina has a powerful lighting system, and it lays claim to holding Formula One's first twilight race.
DYK? Abu Dhabi is home to the world's fastest roller-coaster
Located inside Ferrari World (of course), the Formula Rossa ride reaches 240 kph (150 mph) in less than five seconds and climbs to 52 meters (171 feet) to create 4.8Gs for its riders. And if emulating a drive in a Formula One car isn't your thing, you can go downhill skiing despite Abu Dhabi's average November temperature of 30 degrees Celsius (86 Fahrenheit). Ski Dubai in the Mall of the Emirates offers indoor, downhill skiing with 3,000 square meters of snow (32,292 square feet) and an 85-meter high (279 foot) mountain.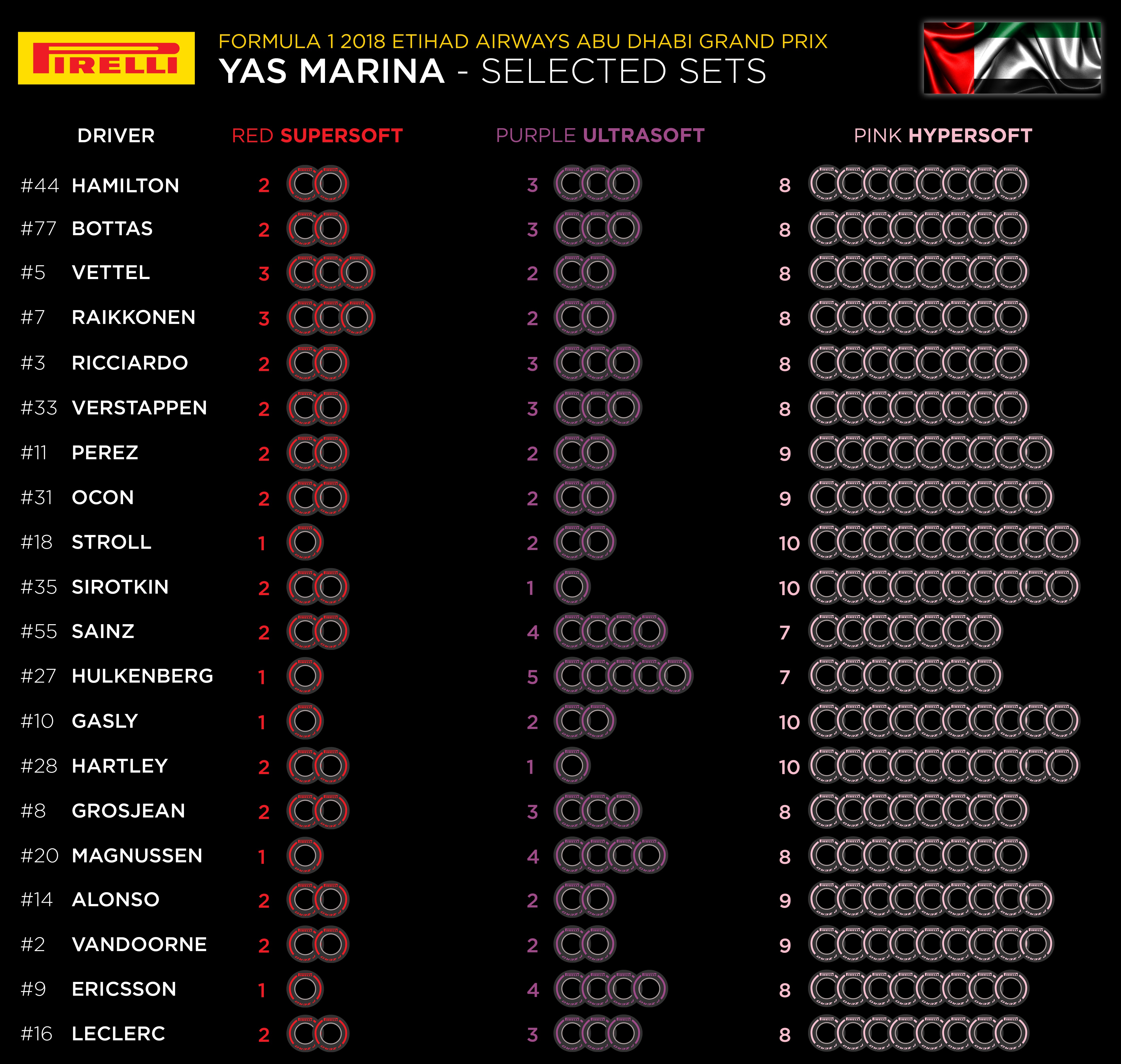 During the course of the Abu Dhabi Grand Prix, lows will range from 22-23 degrees Celsius (72-73 degrees Fahrenheit) to highs of 27-29 degrees Celsius (82-85 degrees Fahrenheit). Relative humidity ranges from 29 per cent (dry) to 83 per cent (humid), with a dewpoint varying from 10 degrees Celsius/50 degrees Fahrenheit (very comfortable) to 22 degrees Celsius/71 degrees Fahrenheit (very muggy). The dew point is rarely below 6 degrees Celsius/43 degrees Fahrenheit (dry) or above 24 degrees Celsius/75 degrees Fahrenheit (very muggy). Typical wind speeds vary from 0-23 kph/0-14 mph (calm to moderate breeze), rarely exceeding 55 kph/34 mph (high wind).
We've been lucky enough to say it 20 times already this year. But now, for the final time in 2018, let's say it loud, and say it proud…

IT'S RACE WEEK! ?#AbuDhabiGP ?? #F1 pic.twitter.com/w6hvDSKOH0

— Formula 1 (@F1) November 19, 2018
Focus points Straight-line speed
Even with two long straights, along which cars exceed 330km/h (205mph) on both occasions, it's hard to overtake at Yas Marina. To be competitive in race conditions, it's vital to have a car that has a high top-speed. But engineers mustn't shave off too much downforce, otherwise they risk compromising competitiveness through the twisty final sector.
Unique difficulty Temperature change. The Abu Dhabi Grand Prix is the only race on the calendar that starts in the heat of the day and finishes after sunset. The track temperature drops significantly during the course of the race, altering the balance of the car and the performance window of the tyre. Added to which, the wind direction often changes direction after dark, making the car more unpredictable to drive.
Biggest challenge Visibility. Sunset is 36 minutes after the start of the race. As the sun gets lower during the early laps, it can be particularly blinding between Turns 14-19. This makes visibility tough, especially for the drivers involved in tight battles with other cars.
Braking Heavy
There are 13 braking events around the track. The result of that is that more than 20 per cent of the lap drivers are on the brakes. There's an average deceleration of 2.9g and the track is regarded as one of the toughest of the season on brakes – similar to the Circuit Gilles Villeneuve in Montreal.
Power The cars use 1.8kg of fuel per lap, which is relatively high.
Aero Medium-to-high downforce. Aero set-up is a compromise between low-speed grip during qualifying and straight-line speed in the race. The drivers and engineers will trim the cars as much as possible during practice until tyre life begins to be affected.