Sébastien Ogier and Julien Ingrassia headed into the final day of competition from the 2018 FIA World Rally Championship knowing that six was the magic number – a sixth place finish in Rally Australia was all they needed to claim a sixth successive.
Doing what they needed to do in a sensational fight that went down to the wire, the pressure was on Ogier's rivals. And, one by one, Thierry Neuville and Ott Tanak hit trouble. Each caught out whilst refusing to give up the fight and pushing admirably through the treacherous conditions.
That meant only one thing, Ogier and Ingrassia had done it. They defended the crown they secured with the Ford Fiesta WRC 12 months previous. The result was the perfect way for the team to say farewell to their champions after two very special years together.
Champagne!! ??#WRC #WorldChampions ? @MSportLtd pic.twitter.com/k4FalgxV3w

— Sébastien Ogier (@SebOgier) November 18, 2018
"It's been an incredible season and the fight has been so close. Not so long ago we thought it was going to be difficult to take the title again, but we never gave up. We gave it everything and had such an amazing team around us. I am so proud of all of them and of course, I want to thank Malcolm [Wilson] for another amazing job. What we achieved together over the past two years has been really special, and I am very proud of that", Ogier said.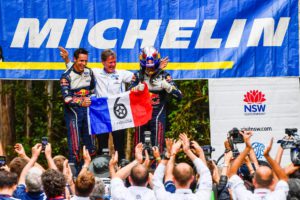 Ogier and Ingrassia proud with their achievements with M-Sport
Julien Ingrassia added: "We had a beautiful journey with M-Sport over these two years and everything we achieved we achieved together. We wanted to end our time with Malcolm and the team in a special way. And that is what we did. There have been a lot of ups and downs during the season and the rally, and we gave it everything to achieve this amazing result."
? @SebOgier – "I'm so proud of my team – you are the best – and we had such an amazing time together!" We're all proud of you too Champ!! #WRC #FordPerformance #RallyAustralia pic.twitter.com/PozAJnuG0c

— M-Sport (@MSportLtd) November 18, 2018