The impressive debut of Kevin Ceccon in the WTCR – FIA World Touring Car Cup – has received a reward. He will drive until the end of the season with Team Mulsanne.
Ceccon was a winner in Auto GP, Formula 3 and GP3. He scored points on his first appearance in the championship at WTCR Race. That was in Slovakia in mid-July on the back of a short pre-event test.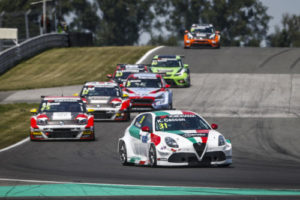 Since then, Team Mulsanne, which runs the Alfa Romeo Giulietta TCR by Romeo Ferraris in WTCR OSCARO, has completed a thorough analysis of Ceccon's performance at the Slovakia Ring. Ceccon finished sixth in Race 3. Then the team has recruited the 24-year-old Italian for the upcoming China double-header. He will also drive in the races in Japan and Macau after both parties reached an agreement.
He will partner prolific touring car winner and fellow Italian Fabrizio Giovanardi as he continues the latest chapter of his motorsport adventure.
We are pleased to confim @KevinCeccon for the rest of the 2018 @FIA_WTCR season with Team Mulsanne #WelcomeBack #WTCR #ItaliansDoItBetter pic.twitter.com/uesyfrzyAK

— Romeo Ferraris (@RomeoFerraris) September 5, 2018
Michela Cerruti, Romeo Ferraris Operations Manager, said:
"We were very impressed by Kevin's performance at the Slovakia Ring. To hire him represented some kind of risk, which we decided to take. And [we got] a points finish that added to the best result by Fabrizio so far this year."
Ceccon said:
"I am very happy to continue in WTCR OSCARO. The call I got was not an easy challenge for me. But the fact that Team Mulsanne and Romeo Ferraris have opted to reconfirm me for the remaining rounds of the championship means that they were happy with my work. And I hope to reward their trust on the track."
See you in Cina guys ?? #ready https://t.co/dhWmweeKNq
— Kevin Ceccon (@KevinCeccon) September 5, 2018