Hyundai Motorsport completed the 23-stage Rally Finland, round eight of the 13-event 2018 FIA World Rally Championship (WRC), with a fourth-placed finish for Hayden Paddon and co-driver Seb Marshall. It equals the team's best-ever result in Finland. Starting as one of the first on the road for the entire weekend, Thierry Neuville and Nicolas Gilsoul adopted a defensive strategy. The aim was to minimise the points loss to championship rival Sébastien Ogier. A ninth-place finish for the Belgians saw them drop just six points to the M-Sport crew. Neuville is still leading the drivers' table by 21 points.
Andreas Mikkelsen and birthday boy Anders Jæger opened Sunday's four stages, just as they did on Saturday. They used the opportunity to learn more about the Hyundai i20 Coupe WRC on the fast and flowing Finnish roads. They were classified in tenth overall.
Sunday's itinerary saw a repeat loop of the 11.74km Laukaa and 11.12km Ruuhimäki stages. All eyes were on the battle for the podium. The only real drama occurred when the Toyota of Esapekka Lappi went off in SS20 (Laukaa 1), elevating Paddon into fourth place.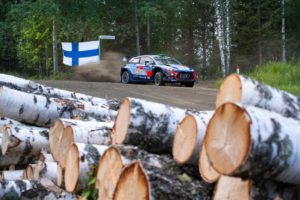 Rally Finland has never been a strong event for Hyundai Motorsport
The team, however, has taken enough points to retain its lead of the manufacturers' championship with a 26-point buffer over M-Sport and 27 ahead of the rally-winning Toyota team.
"On the whole, I'm really happy with the weekend. We have been able to keep pace with some of the event favourites, maintaining a consistent performance. Naturally, we would have preferred to score a podium, of course, but we took a measured approach to secure important points for the manufacturers' championship. The final morning was all about taking it easy to bring the car home with a comfortable gap behind us. I've really enjoyed the stages this weekend, the car has been a joy to drive and it has given me the confidence I need. We are back on the right track", Paddon said.
Get on-board with @HaydenPaddon & @sebmarshall as they tackle the fast stages of @RallyFinland! ???? #WRC #HMSGOfficial #action pic.twitter.com/nm5epUqt0W

— Hyundai Motorsport (@HMSGOfficial) August 1, 2018
Neuville and Gilsoul secured two extra points in the Power Stage with spectacular jumps through Ruuhimäki
"Road position has really dictated a lot this weekend. Even without our mistake on Friday, when we misread a pace note, I don't think we would have been any higher up the classification. We have had to accept our limits and focus on completing each stage with no further trouble. The main target was not losing too many points to Ogier, which we did to the best of our ability. We could only control what's in our hands. We gave it everything we could in the Power Stage and it was good to take a couple of extra points. Overall we have done our best, the team has done a good job and we can be proud of ourselves. We now look ahead to the team's home event in Germany", Neuville explained.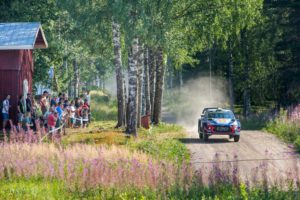 Mikkelsen and Jæger had a tough weekend, unable to mount a challenge after an incident on Friday
They used the rest of the rally to build more confidence on high-speed stages.
Mikkelsen said: "A difficult weekend for us. Any chance we might have had to feature further up the order was spoiled with our time loss on Friday morning's loop. Losing three minutes due to a pace note error was just what we didn't need, and it meant we were penalised as first on the road for Saturday and again this morning. We have had to avoid any unnecessary risks and use this event as a way of better understanding the car in these conditions but I'm sure we'll be back on pace in Germany."
Team Principal Michel Nandan commented:
"I don't think we could have done much more. We knew we would face strong competition from crews who are always competitive on the Finnish stages. Congratulations to Ott [Tanak], for an outstanding performance. Hayden and Seb had a positive event, doing all that we asked of them to score important points of the manufacturers' championship. We've come to see fourth place here as a pretty decent result! Considering their road positions, there wasn't much more Thierry and Andreas could have done. It's been a character-building weekend and they've shown maturity in a frustrating situation. We now move onto our own home event, Rallye Deutschland, which brings an entirely different set of challenges – and hopefully opportunities."