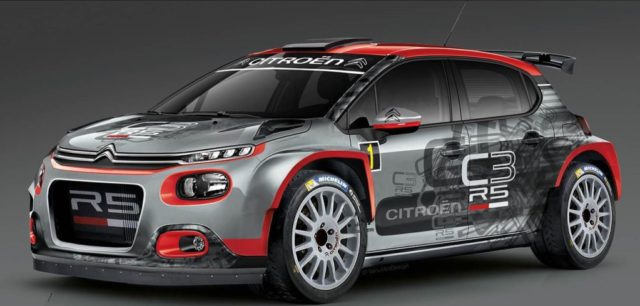 The Citroen C3 R5 will make its first public outing at the Rallye du Var (23-26 November). Yoann Bonato and Benjamin Boulloud will be leading the action at the event. They already won the 2017 French Rally Championship in a DS 3 R5. This the first time when Bonato participated in the development of a car at such an early stage. He admitted there was a surprise because it was a clean, efficient and drivable car from the very beginning.
Since the start of September, the Citroen C3 R5 went through a series of test sessions, both on tarmac and gravel. Now the product is close to that which will go on sale in the first half of 2018. The prototype driven by Stéphane Lefebvre, Craig Breen and Yoann Bonato has already racked up over 4,000km in testing.
For Citroen Racing, the next step involves unveiling its latest creation in a public setting. On 23-26 November, a Citroen C3 R5 will be running as one of the zero cars at the Rallye du Var. That is the final round of the French Championship. Bearing the number '0' on its doors, the C3 R5 will not be running competitively, since it will not yet have been homologated by the FIA.
The Citroen C3 R5 will be driven by Yoann Bonato
He has already wrapped up this year's French Championship title after winning four rallies (Limousin, Rouergue, Mont-Blanc and Cœur de France) in his DS 3 R5
With the pressure completely off, Yoann and his co-driver Benjamin Boulloud will be able to celebrate their recent title whilst providing the Citroen Racing engineers with precious information. This full-scale test session will enable the C3 R5 to tackle a wide variety of roads.
The Rallye du Var kicks off on Friday, 24 November after lunch. It will finish at middSundaySunday, after 14 stages over a total competitive distance of 183km. The magnificent route takes in some beautiful roads, with the famous Collobrières test expected to be one of the decisive stages.
Yves Matton, Citroen Racing Team Principal:
"Yoann Bonato has had a superb season in the French Championship and he has won another title for the DS 3 R5. Although luck hasn't always been on his side, he has also produced some fine performances in the WRC 2 over the past two seasons. So it seemed to make perfect sense to me to ask him to drive the Citroen C3 R5 on its first public outing at the Rallye du Var. It will put the spotlight on an excellent driver, who has actively participated in the development of our new customer racing product. The Rallye du Var gives us the opportunity to show the car to anyone who is really interested. It will also enable the technical team to assess the maturity of the development in different conditions to those you get in a test session."
Pierre Budar, Development Director, Customer Racing Vehicles:
"Thanks to the technical choices made long before the first road tests, we have completed a series of test sessions without any major technical hitches. And we managed to achieve the performance potential we were aiming for. Whilst also assessing the robustness of the components, we have been analysing various set-up configurations. Another important milestone will be reached with our participation in the Rallye du Var. There we can test the C3 R5 in conditions close to those in which it will be ultimately used."
Yoann Bonato:
"I started my career with Citroen, as part of the Saxo Challenge; that was how I managed to secure my first works drive. We went our separate ways before our paths crossed again in 2016. And the opportunity offered to me is a great way of concluding what has been a great season."
"It's difficult to compare the C3 R5 with the previous generation because everything is really different. Use of the chassis, the engine, ergonomics: you really get the feeling you have moved up a category. At the Rallye du Var, my aim will be to pursue the development work done so far and provide the team with as much feedback as possible. But also to enjoy driving on these fantastic roads."
You want more action of the #C3R5 test? Here it is! pic.twitter.com/ft7Q4dE0im

— Citroën Racing (@CitroenRacing) November 3, 2017