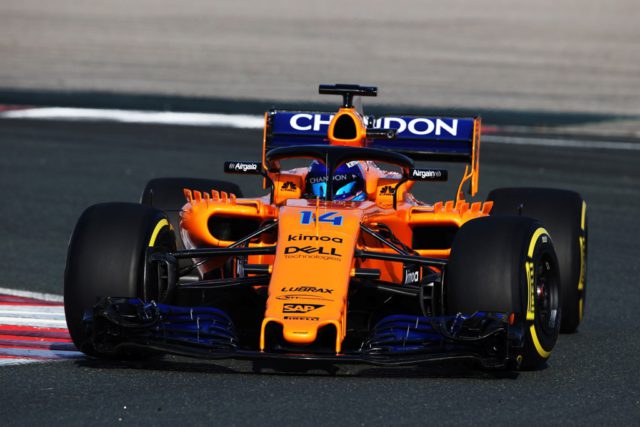 McLaren's distinctive orange livery was successful across Formula 1, the Indy 500 and the CanAm series. For 2018, the MCL33 spectacularly revives the original colours of McLaren – papaya orange and dark blue – in a refreshing new way.
The return to papaya came after numerous entreaties of fans. But it was also the result of the team's vision – looking to its past to shape its future. The unique livery is an overt statement of the team's next chapter. And it is symbolic of McLaren at its simplest, purest form: that of racers.
It reflects the essential qualities that have remained constants for McLaren throughout its history and are intrinsic to its future. In particular, it evokes the bravery of the team.
McLaren first used papaya in 1968, another convention-busting decision of founder Bruce McLaren. At a time when many nations raced under traditional national colours, such as British Racing Green, French Racing Blue and Italian Rosso Corsa, Bruce chose papaya to make his eponymous team stand out on the racetrack.
The MCL33's eye-catching primary colour, Papaya Spark, and secondary colours, Burton Blue and Cerulean Blue, were each developed in collaboration with McLaren partner AkzoNobel. The innovative coating systems supplied by the company have enabled the team to significantly reduce the total weight of the paint and decrease paint processing time by more than 50%.
Zak Brown, Executive Director, McLaren Technology Group:
"The McLaren team was created by a brave pioneer and has had bravery at its core ever since. Whether it's been with brave drivers, brave leaders or brave fortune, this team has always fought back."
"And we definitely view 2018 as the year when McLaren will move closer to the front, fighting teams and drivers as we improve our fortunes."
"We have an excellent team, a new engine partner in Renault and a host of fantastic new partnerships: Airgain, CNBC, Dell Technologies, Kimoa and Petrobras have all been welcomed to the McLaren family."
"Our return to a papaya orange livery for this year wasn't simply an emotional decision; it demonstrates that we are listening to our fans, building deeper engagement with them and the Formula 1 community as a whole."
"We want McLaren to earn respect on and off the track, and this felt like a good starting point. We want to show everyone what makes this team special, whether that's our fans or our partners – there's room for more on our journey."
Eric Boullier, McLaren Racing Director:
"I think the whole team feels proud of this car."
"The design, engineering and aerodynamic departments have done an incredible job delivering a new car with a new power unit in an extremely short timeframe. We never took the easy route or looked to shortcut a process or a solution; and the result is a car that is neat and well-resolved."
"That said, we are under no illusions that it will be difficult to splinter the hegemony at the front; and that the midfield will be full of well-funded, experienced outfits with plenty to prove. We are humble about the challenge ahead, but feel we've prepared well, have a solid package that we can build upon and exploit as the season progresses, and have two excellent drivers who will make the difference in races."
"At McLaren, we are all racers – pure and simple. We're going to come out pushing, and we're going to be racing as hard as ever."
First reaction: Fernando shares his thoughts following his #MCL33 track debut. #BeBrave ?? pic.twitter.com/FWzlSnpKga

— McLaren (@McLarenF1) February 23, 2018