Max Verstappen took time out from his British Grand Prix preparations to visit London's cool, new Red Bull Gaming Sphere where he came face to face with 'Hashtag Ryan' Pessoa, one of esports' big global stars.
Verstappen travelled over to London to visit the new Red Bull Gaming Sphere where he met FIFA esports star 'Hashtag Ryan' Pessoa for one-on-one duels in the football game FIFA and F1 2018.
Ready. Set. Game! ?@Max33Verstappen v @HashtagRyan_ ?See who takes gaming glory ?https://t.co/gi8TmFtUcG ???#BritishGP pic.twitter.com/PNkQrESxZp

— Red Bull Racing (@redbullracing) July 4, 2018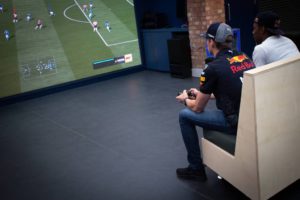 Verstappen surprised Pessoa by how well he held his own in their competitive games of FIFA
The Dutchman showed why he is one of Formula 1's young stars with thrilling virtual laps of Silverstone – the track he will be racing this weekend.
The Aston Martin Red Bull Racing driver said: "This is definitely one of the best tracks in the world. It should be the fastest lap for me otherwise I should find another job! If I wasn't a Formula 1 driver, I would be gaming here all day trying to become a professional player. I think I could cut my lap time another 1.5 to 2 seconds."
Pessoa, who plays professionally for Hashtag United, revealed: "Max is a good FIFA player. The scorelines were pretty close considering I'm a professional and he's just a casual gamer. He put up more of a challenge than most of my friends do at home."
Verstappen currently lies fifth in the 2018 F1 drivers' standings and added: "My favourite Silverstone corners are Becketts and Maggotts. They are very fast and are on the limit of what an F1 car can do through corners. I am always very happy to go back as a lot of fans come to see us race. Hopefully, we will have a good weekend."
Anyone for a lap of Silverstone? ?Get a first look at @Formula1game 2018 with @Max33Verstappen at the #BritishGP ??#makeheadlines pic.twitter.com/TWVUn0RRjb

— Red Bull Racing (@redbullracing) July 5, 2018