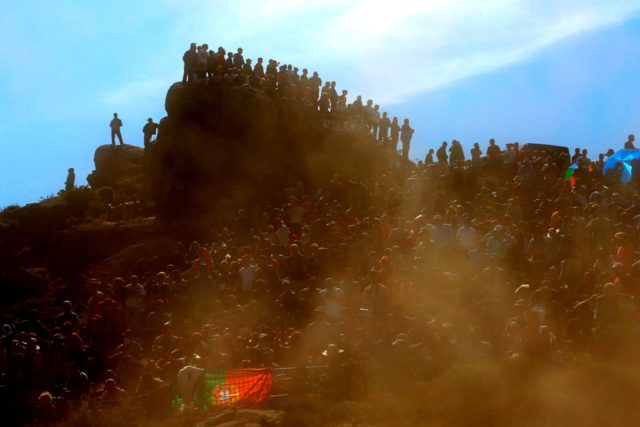 Rally de Portugal is set to welcome an outstanding line-up for its fiftieth anniversary, with some fourteen new generation World Rally Cars taking part. Expected, as ever, to flock in large numbers to the Porto region – to which the event returned in 2015 – Portuguese fans are certain to be delighted by the show put on by the stunning new cars. After a frustrating Rally Argentina for the Citroen, the Portuguese round is eagerly anticipated. For the first time, the team has entered four Citroen C3 WRCs. Kris Meeke, Craig Breen and Stéphane Lefebvre will be nominated to score points for the Manufacturers' World Championship, whilst Khalid Al Qassimi will be making his competitive debut in a new generation car.
"After entering three cars at the Tour de Corse, we're taking another step forward here with a fourth C3 WRC at Rally de Portugal. It's a great achievement, which is largely down to the work of our technical team. For various reasons, results at the last two rallies haven't been as good as expected. At this sixth round, we will be asking our drivers to make it to the end of the rally and we hope to have two C3 WRCs finish in the top five overall", team principal Yves Matton explained.
Technical director Laurent Fregosi added that the Argentina crashes had no effect on the preparation for Portugal
"That is because we're not using the same chassis", he continued. "To prepare both for this rally and the following one, our four drivers had a day's testing in Sardinia. We then continued working on the usual development areas: suspension, mapping of the central diff, assessment of the tyres and so on."
#WRC Portuguese fans should be delighted as they will see 4 #C3WRCs entering the @rallydeportugal event this week! Can't wait! pic.twitter.com/56nrjNQ0yw

— Linda Jackson (@LindaJackson) 15 May 2017

Last year, the event was won by Kris Meeke and Paul Nagle, who had shown their speed and ability to manage a rally throughout the 3 days of competition
Quick in all conditions and surfaces – they have won stages in Mexico, Corsica and Argentina – the event is undoubtedly within the reach of the two men.
"Argentina was wild – nothing went as planned", Meeke admitted again. "It happens sometimes, you just have to put it behind you. I feel okay ahead of Portugal, although I can't say I'm overflowing with confidence. I think that the work done in our recent test sessions will help us move in the right direction. I'm pleased to be competing at this rally. Obviously, I have some fond memories of winning here in 2016. Quite a lot of changes have been made to the course, so in a lot of cases we'll have to start from scratch with the pace notes."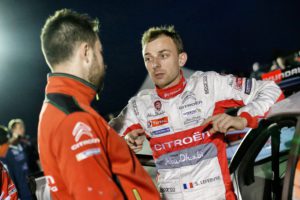 The 2016 rally also provided Stéphane Lefebvre and Gabin Moreau with the opportunity to show what they could do
The pair consistently setting times within 0.2 sec per kilometre of their team-mates. Having missed Rally Argentina, the Frenchmen have worked tirelessly in order to prepare for one of their favourite events and try to secure a convincing result.
"Unlike the previous few rounds, I feel I know this rally pretty well. Having competed once here in an R5 and once in a WRC, I have good experience on these roads. When they are wide and fast, the stages are magnificent. I really like Amarante, the longest stage of the rally. I'm also almost certain to have a good position in the running order on day one. And I'm hoping to make the most of it!", Stephane commented.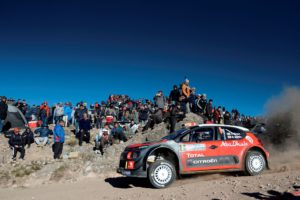 In contrast, this round will be a leap into the unknown for Craig Breen and Scott Martin
Having been let down by mechanical issues on the opening stage in 2015 and missed the event altogether in 2016, they'll have it all to do as they learn about the stages!
"Just like in Argentina, I'm venturing into something of the unknown here. I did recce here in 2016, but that's no substitute for actual racing experience. I know that I have to improve on this kind of surface, where I'm a little be less at home than on the fast gravel roads you get in Poland or Finland. The testing in Sardinia was positive. We kept working on certain points, taking into account the things we learned in Argentina. The Citroen C3 WRC will be even better in Portugal!", Breen said.
Learning will also be theme of the weekend for Khalid Al Qassimi and Chris Patterson
It will be the Abu Dhabi driver's first rally since the 2016 Rally de Espana and he will also be making his first competitive outing in the C3 WRC. Khalid has competed seven times in Portugal, including three points finishes when the event was held in the Algarve.
"My aim will be to build my confidence gradually, without taking any big risks", Al Qassimi said. "I'm delighted to be taking part in what is one of my favourite rallies."
A few days before @rallydeportugal our drivers had a visit at @GroupePSA Mangualde factory! #factorytours #PSA pic.twitter.com/K9lGmVfHPq

— Citroën Racing (@CitroenRacing) 15 May 2017