Lewis Hamilton (Mercedes) won the French Grand prix, eighth round of the 2018 Formula 1 world championship. Max Verstappen of Red Bull took second while Kimi Raikkonen (Ferrari) was third.
? CLASSIFICATION (RACE FINISH) ?

A controlled race from Hamilton and the 26th different circuit where he's won!#FrenchGP ?? #F1 pic.twitter.com/EAr0dCXJ5f

— Formula 1 (@F1) June 24, 2018
Lewis' margin of victory over Verstappen was 7.090 seconds. The win also allowed Hamilton to retake the championship lead by 14 points ahead of Sebastian Vettel, who entered the French Grand Prix with a one-point advantage over Hamilton.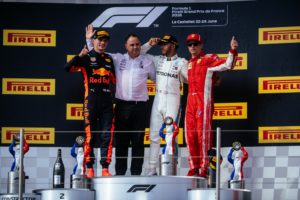 Hamilton wins the French GP
Vettel hit Valtteri Bottas after the start and later was given a 5-second penalty. But the incident ruined both of their races. Vettel managed to get back to the fifth place while his teammate reached the podium.
"I was a bit squeezed and couldn't really go anywhere"

Seb gives his take on that frantic opening to the race#FrenchGP ?? #F1 pic.twitter.com/aUf7QoGxlX

— Formula 1 (@F1) June 24, 2018
Another crash took out two of the three French drivers taking part in the French Grand prix. Esteban Ocon and Pierre Gasly retired after only a couple of turns.
There were no serious incidents until the end of the race. Hamilton controlled the pace effortlessly and triumphed for the 44th time with Mercedes.
"It's a beautiful Sunday. Happy Sunday everyone!"

? @LewisHamilton#FrenchGP ?? #F1 pic.twitter.com/0J1vlvNPOP

— Formula 1 (@F1) June 24, 2018