Renault celebrates the much-heralded return of today's French Grand Prix in a very special way. Saudi Arabian Aseel Al-Hamad is the first female member of the Saudi Arabian Motorsport Federation. And she will have the opportunity to drive a Renault F1 E20 car on the Le Castellet circuit. The event is part of the Renault 'Passion Parade'. It takes place just hours before the start of the first French GP in ten years. It is the very same car 2007 F1 world champion Kimi Raikkonen won the 2012 Abu Dhabi Grand Prix.
Renault and F1 are proud to enable Aseel Al-Hamad to pursue the passion for motorsport she has cultivated over the years on the same day women are able to drive on the roads of Saudi Arabia
Aseel got her first experience of Formula 1 power at a Renault training day on 5 June at Le Castellet. Under the expert tutoring of Renault Sport Formula One Team engineers and technicians, Aseel learned the demanding circuit. First, she was in a Renault road car before switching to a Formula Renault car. And then the E20 Formula 1 car came in during the latter part of the day.
Aseel represents her country on the FIA Women in Motorsport Commission. Its chairman is former World Rally Championship driver and winner Michèle Mouton. Amongst Aseel's many responsibilities, she puts in place strategies and policies to promote the education and training of women in motorsport in Saudi Arabia.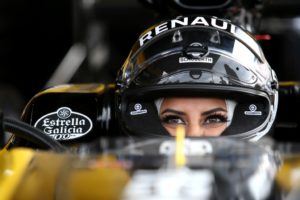 Aseel Al-Hamad said:
"I have loved racing and motorsport from a very young age. And to drive a Formula 1 car goes even beyond my dreams and what I thought was possible. It is a genuine honour to drive the Renault Sport Formula One Team E20 car in front of the crowds at its home Grand Prix in France. I hope doing so on the day when women can drive on the roads in the Kingdom of Saudi Arabia shows what you can do if you have the passion and spirit to dream."
Michèle Mouton, President of the FIA Women in Motorsport Commission, added:
"The FIA Women in Motorsport Commission is dedicated to promoting opportunities across all forms of motorsport activities. But also to promoting equality between male and female counterparts in the wider automotive industry and on the roads. To do so, we work extremely closely with all national sporting federations to improve access to our sport. In the time Aseel has been a member of the Commission, Saudi Arabia's vision has been very clear and things have developed at a rapid rate. Now, as one of the driving forces behind the Saudi Arabian Motorsport Federation, Aseel will pave the way for women to embrace sports and careers in motorsport. Thank you to Renault for putting together such an innovative opportunity that showcases so many of our principles."