Pascal Wehrlein will miss the first Formula 1 pre-season test. The Sauber driver confirmed a back problem on Twitter: "I have to skip the first winter test due to medical advice because of a BACK issue. I feel sorry for the team but we'll come back stronger."
I have to skip the first wintertest due to medical advice because of a BACK issue. I feel sorry for the team but we'll come back stronger!

— Pascal Wehrlein (@PWehrlein) 17 February 2017
The 22-year-old Wehrlein crashed at the Race of Champions in Miami (USA) in January, while racing Felipe Massa. His accident happened during the individual race. Pascal did not race in the Nations Cup on the next day. He had to be Sebastian Vettel's teammate. In his absence the four-time F1 champion single-handedly won the Nations Cup for Germany.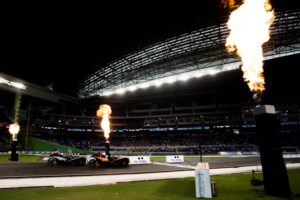 "I feel fine, but the doctors have advised me to rest so of course I will take their advice. It's no more than mild discomfort but my real priority for the coming year is my Formula 1 season", Wehrlein said then.
Later there were rumors a possible back injury might prevent him from driving in the pre-season test. At the beginning of February the Sauber team explained that the medical examinations were ongoing and the reports were pure speculations at the time. "We will provide information in due time", the statement concluded.
2/2 Therefore, the reports are pure speculations. We will provide information in due time. #F1 @PWehrlein

— Sauber F1 Team (@SauberF1Team) 6 February 2017
There was no immediate comment from Sauber after the confirmation of Pascal Wehrlein for missing the first test
Reports in Italy suggest that Antonio Giovinazzi would step in for Wehrlein at the test alongside Marcus Ericsson. Giovinazzi is the third driver of Ferrari.
Sauber will present its 2017 challenger on Monday next week – February 20th.