Planet Earth's toughest race track will pose a challenge like no other when the WTCR – FIA World Touring Car Cup presented by OSCARO is at the Nurburgring Nordschleife this week for the third event of the all-action season.
Measuring 25.378 kilometres in length and with a succession of climbs, dips and 64 heart-stopping turns to tackle, the Nordschleife rollercoaster is worshipped and feared in equal measure.
Three races will decide who will be the King of the Ring and scoop the TAG Heuer Most Valuable Driver (MVD) award for the racer landing the most points across the WTCR Race of Germany weekend, which also features a wildcard appearance by DTM champion René Rast and the launch of Esports WTCR OSCARO.
The Nurburgring Nordschleife in their own words
Leading WTCR OSCARO drivers have been talking about the Nurburgring Nordschleife's huge challenge. This is what they've had to say in the build-up to the big race.
Tom Coronel (Boutsen Ginion Racing):
"There's nothing even close to the Nurburgring Nordschleife, it's every track times 10, the most legendary there is. There's a myth associated with the track and all the manufacturers want to have lap records there. I've held the road car record with the Dodge Viper, I've done a lot of 24 hours there but you never know the track because it's never the same from one part to another but you have to trust it. As a race car driver, it's one of those things you need every year to satisfy yourself."
Yessss so excited to start ? the best and toughest track on planet earth… challenging as always ?? #nurburgring #nordschleife #WTCR @BoutsenGinion @hondaracingwtcr pic.twitter.com/CUCV77KLC9

— Tom Coronel (@TomCoronel) May 10, 2018
Esteban Guerrieri (ALL-INKL.COM Münnich Motorsport):
"From the challenge point of view, you don't get better than the Nürburgring Nordschleife. The first lap I did took so much energy and concentration that when I stopped after the first flying lap and the team asked me to go out again and go 10 seconds quicker, I wondered how I would do that because I was drained out. But then it got easier and things came a lot smoother. But it's a very challenging circuit on the mind and I remember after the jumps I realised I wasn't breathing for more than 10 seconds."
Gordon Shedden (Audi Sport Leopard Lukoil Team):
"I've been there now just to do a few laps so I'm very new to it. You get these blind corners you're flying across and it feels kind of homely because we have some tracks like it in the UK, but not on the same scale of course. It's probably the biggest challenge of the year for everybody. It's one of these tracks you love or hate, there's nothing in between. The place is just insane and it's a big weekend for Audi."
Frédéric Vervisch (Audi Sport Team Comtoyou):
"It's so amazing, you have so much fun and it's definitely one of my favourite tracks when it's dry. When it's dry, sunny with no oil or whatever on the track you really enjoy it a lot. You never know it enough and you learn every time. It's very challenging and the most difficult to remember. When I did it in the very beginning, the first part you always kind of know but the last part with all the blind corners takes time to learn."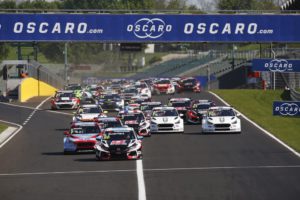 One track, three reigning touring car champions
Three significant touring car champions will race each other for the first time at WTCR Race of Germany. René Rast, DTM champion in 2017, will join the packed WTCR grid as a wildcard entrant, racing an Audi RS 3 LMS under the Audi Sport Team WRT banner. It will mean the current WTCC, TCR International and DTM champions will race against each other for the first time with Thed Björk and Jean-Karl Vernay also in action at the Nurburgring Nordschleife.
"Competing against the world's best drivers in a touring car now is fantastic, it's a nice challenge," said Rast, 31. "The field includes four world champions, plus many other title winners. These are big names and I'm looking forward to being pitted against them on home soil." Other touring car champions racing at the 'Ring include Fabrizio Giovanardi, Rob Huff, Yvan Muller, Gordon Shedden, Gabriele Tarquini and James Thompson. Meanwhile, German-speaking Swiss Kris Richard will complete the wildcard entrants at WTCR Race of Germany. Winner of the FIA European Touring Car Cup in 2016, Richard is a highly-rated youngster and will drive a Honda Civic Type R TCR for KCMG. "This opportunity is absolutely great for me," said Richard.
2018 #WTCR #Oscaro class, including our wildcard drivers René Rast and Kris Richard. ??
Have a good race weekend guys! ?? pic.twitter.com/buvPpwsc16

— FIA WTCR / Oscaro (@FIA_WTCR) May 9, 2018
Tarquini and BRC on top
After two events and six races, Gabriele Tarquini heads the WTCR OSCARO standings on the back of a win double in Morocco and a single triumph in Hungary, where he beat Hyundai-powered BRC Racing Team-mate and home hero Norbert Michelisz to victory. Michelisz trails ALL-INKL.COM Münnich Motorsport Honda driver Yann Ehrlacher and Yvan Muller in the table followed by Sébastien Loeb Racing's Rob Huff and Thed Björk, who partners Muller at YMR. Huff's victory in Race 2 at the Hungaroring was the first for the Volkswagen Golf GTI TCR in WTCR and means four customer racing brands (Jean-Karl Vernay won for Audi in Morocco, Ehrlacher triumphed for Honda in Hungary) have won in 2018. Meanwhile, in the battle for the prestigious Teams' title, BRC Racing Team heads ALL-INKL.COM Münnich Motorsport and YMR.
The challenge ahead
Germany's WTCR host venue offers a challenge like no other with its daunting 25.378-kilometre lap, 64 heart-stopping corners and changeable Eifel mountains weather. Opening for business in 1927 and a German Grand Prix regular until Niki Lauda's near-fatal accident in 1976, the Nurburgring Nordschleife joined the FIA World Touring Car Championship schedule from 2015-2017 as part of the ADAC Zurich 24h Rennen weekend. It delivered plenty of drama and several standout performances by José María López, a double winner in 2016 when drivers from the European Touring Car Cup joined their WTCC counterparts on track, albeit from a split grid.
Five to watch
1 René Rast: The DTM champion will make his WTCR debut on home soil as a wildcard. He knows the track and has started to master his Audi RS 3 LMS following a test at Spa-Francorchamps recently. But how will he compare against the WTCR regulars?
2 Yann Ehrlacher: Yvan Muller's nephew moved into the title frame with his maiden WTCR victory in the opening race at the Hungaroring. Driving for home team ALL-INKL.COM Münnich Motorsport, the Frenchman will be a contender for top sport at WTCR Race of Germany.
3 Team-mate tussles: The battle for team supremacy was evident at the Hungaroring last month with Team OSCARO by Campos Racing pair John Filippi and Pepe Oriola, plus Team Mulsanne duo Fabrizio Giovanardi and Gianni Morbidelli among those scrapping for position.
4 Kris Richard: He's won at the Nordschleife in the FIA European Touring Car Cup and impressed on two outings in the WTCC in 2017. Now the German-speaking Swiss has vowed to turn a one-off wildcard appearance into a full-time WTCR drive in 2019.
5 Busy drivers: Tom Coronel, René Rast and Frédéric Vervisch will be keeping busy at the Nurburgring Nordschleife. The trio is also contesting the twice-around-the-clock ADAC Zurich 24h-Rennen alongside their WTCR commitments.
Typical Nordschleife atmosphere!
Great Autograph session in Adenau today ???@allinklracing @hondaracingwtcr @FIA_WTCR pic.twitter.com/inRHuxS1mJ

— Yann Ehrlacher (@YannEhrlacher) May 9, 2018
2