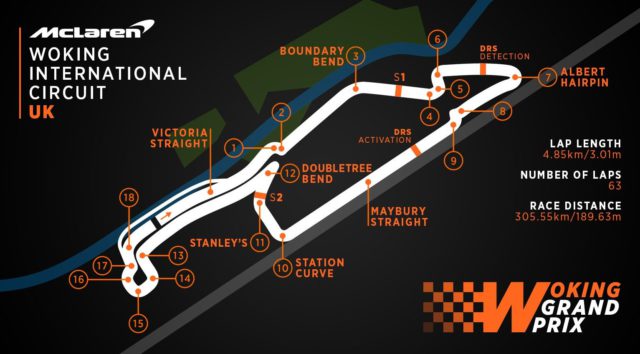 McLaren has launched a plan for a Formula 1 grand prix on the streets of its home town of Woking. The team has said that its absurdly ambitious plan would enable Woking to join the ranks of Monaco and Singapore. As one of Formula 1 most glamorous and iconic race locations".
The plan includes an 18-turn track of just over three miles – named the Woking International Circuit.
Mclaren technology group chief operating officer Jonathan Neale said: "Why not bring Formula 1 to the streets of Woking?
"Obviously, aside from the huge social and financial commitment needed to set up the infrastructure, re-profile roads, re-lay Tarmac, fit miles of Armco, build grandstands, pay for race-hosting fees and gain approval and sign-off from the FIA, we don't see any barriers to our vision."
Mclaren added that the projected top speed on the circuit would be 195mph. Stating that this would be for the front running cars. Mclaren executive director Zak Brown said the plan evoked memories of Mika Hakkinen run through the town to celebrate his first world championship in 1998.
Monaco. Singapore… Woking?Ladies and gents, introducing the Woking GP. ??

Публикувахте от McLaren в 15 август 2017 г.