Lance Stroll finished eighth in the Azerbaijan Grand prix whilst Sergey Sirotkin retired from the race. It was a case of unfulfilled promise for the Williams team which still got its first points in 2018.
"It was very disappointing to lose Sergey at the start after a coming together with [Fernando] Alonso and [Nico] Hulkenberg put an early finish to his race. As usual, we had a highly eventful afternoon with lots of incidents right to the very end, so it was great to get eighth position with Lance. I'm happy in one way but disappointed in another because I think there were many more points possible for us. Even so, it was a great drive by Lance, all weekend in fact. He kept the car in one piece which is actually one of the key things at this circuit. It is great to get our first points on the board this season and we need to keep this momentum going", Chief Technical Officer Paddy Lowe said.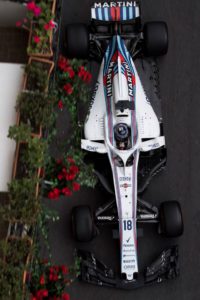 Stroll remarked it was a crazy race with a lot of things happening
But he was happy with his performance.
"There were perhaps one or two more positions if we did everything perfectly, but no one had a perfect race. In that battle with Fernando at the end I think I should have held him there, but he surprised me into turn three. I didn't really see him coming back on the inside and he just managed to sneak through, but that was probably the only little bit we missed. All in all, I am happy with P8 and it was a good race for the team. We can't assume this pace will carry on to Barcelona, we have to understand our issues and keep working but that is just what we are doing", the Canadian driver added.
Sirotkin's race was over even before it really began
The Russian said he was really sorry for the crash.
"I was between two cars heading into turn three and I was just slowly and progressively squeezed between the two cars, as I was in the middle. At a point I saw I was not going to avoid a crash so I just lifted, hoping they would squeeze me but not hit me that much, but then already there was nothing I could do. We touched, my car jumped and when I landed, I broke my front suspension and my wing. I am just really sorry for this, as it is such a long race, but I understand that we all want to gain positions at the start, which is important. It is a shame in a race in such conditions. Parking the car in turn three is not the best feeling", Sirotkin explained.
Boom! ? https://t.co/kSB5cJZ7d9

— WILLIAMS RACING (@WilliamsRacing) May 1, 2018