Hayden Paddon and John Kennard had little in the way of good fortune during the weekend in Argentina, in an event that they impressively won twelve months ago. The Power Stage may have been reminiscent of their experiences from 2016, but their own result was a stark contrast.
Two stage wins on Friday were a highlight of a tough weekend. The fastest times in SS7 and SS8 was little consolation for the pair after rolling their Hyundai i20 Coupe WRC in the day's opening stage.
"It was a lot tougher this year, especially with the extra speed for the new cars. In the first Friday stage, we were caught out at a hairpin and the car rolled. It was very slow and thankfully we could get out and get it back over. The car wasn't quite as competitive as it was before but we were still in the rally. The team worked fantastically at service to get us ready for the afternoon", was Paddon's explanation.
On Saturday a broken roll bar on the afternoon loop hampered the progress – definitely not what the crew wanted after the good feeling in the first half of the day.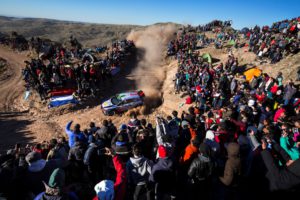 Hayden Paddon for Argentina: "You could not have written a script more opposite to what we had in 2016"
"We had to fix that and in doing so we were six minutes late to check-in for the following stage, incurring a time penalty. Generally, though, the Saturday stages were smooth, flowing and enjoyable to drive. There was still a bit of frustration over what happened on Friday because without that we could have been in the fight for second place – and, from there, who knows what could have happened. We can't dwell on that, though. We will instead aim to finish the rally strongly and secure some valuable Championship points for a top-six finish."
Instead of regretting already past things, the crew aimed at a strong top 6 finish and managed to achieve it.
"You could not have written a script more opposite to what we had here last season", Hayden Paddon admitted after the finish. "We've gone from a career high to a result that is much lower on the scale. I just can't believe our luck. Our issue on Friday was long behind us as we started to show some improved performance. There was not much we could do about our position but we wanted to build a rhythm. I didn't have the feeling with the car in Sunday's stages, and that culminated with a power steering problem in the Power Stage. We struggled to the finish but sixth place is not where we want to be."
Thank you Argentina! It may not have been the best rally for us but still love the event, passion and enthusasim. We will be back next year! pic.twitter.com/ckhHHDpORY

— Hayden Paddon (@HaydenPaddon) 2 May 2017