Fernando Alonso and Stoffel Vandoorne threaded their way through the carnage on the streets of Baku to claim seventh and ninth places respectively in the action-packed Azerbaijan Grand prix.
For both drivers, the race really was a case of making something from nothing. Alonso drove back into contention after being forced to pit at the end of lap one to change two punctured tyres, caused by banging wheels with another car along one of the straights.
"The race was very complicated – right from the very first lap. The first lap in the midfield is the same old story; people preferring to crash into other cars rather than lifting off. But it's also up to us to qualify further towards the front, where it's usually a little bit cleaner", Alonso commented.
"On that opening lap, my car was heavily damaged – I had two punctures, with one flat tyre damaging the floor. I also had a damaged front and rear wing. I really thought that would be the end of my race. But after the team fitted a new front wing and fresh tyres, I went back out, fought all race long, and actually found the car to be quite competitive."
"We were able to overtake a Sauber and a Renault thanks to the Safety Car, which enabled us to recover a couple of positions. It was one of the best races in years for us, I reckon."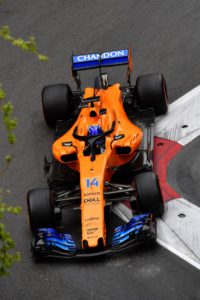 Alonso happy with his Baku performance with a heavily damaged car
Vandoorne too looked to have dropped out of contention. He made an unplanned second pit-stop on lap 25 after flat-spotting a tyre at Turn Three. However, he made an inspired late-race call to fit fresher rubber while behind the Safety Car. That allowed him to quickly vault the cars ahead of him and claim another points finish.
"This race is usually a bit crazy, and we saw that again. By mid-race, I think I was last, and that there was zero chance of making something work. But then the Safety Car came out: I made a good call at the end to put some hot rubber on when everyone else seemed to be struggling with tyre warm-up. Being at the back at that point wasn't necessarily a bad thing – at the restart, I felt really confident, managed to overtake a few cars, and got myself back in the points", the Belgian explained.
"We still lack straight-line speed, which meant it was a struggle to attack or defend in the race, so there's still some work to do there. Nevertheless, I'm pleased that we got some more points."
Pinchazos y coche dañado en la primera vuelta. 7o y más puntos en la bandera a cuadros. Carrera q estoy orgulloso debido a la dificultad

Punctures and a damaged car in the first lap. Seventh and more points on the checkered flag. A race that I'm proud due to the difficulty of it pic.twitter.com/hjapJ7N1Uo

— Fernando Alonso (@alo_oficial) April 29, 2018