Sebastian Vettel had a disappointing Grand prix of Azerbaijan but he was at least content that he tried to take the victory.
"We are not entirely happy, because we could have won. In fact, I am very upset about losing the position at the restart, because I didn't want that to happen, but there are also so many positive aspects to take from this race. When the safety car pulled away, I saw a gap and I went for it, but obviously, it didn't work."
"So, now it's easy for everyone to say that it was too big a risk, but I was driving at 330 kph on the straight, there was no reference on the left and I didn't really have many options. Lewis [Hamilton] was on the right, while Valtteri [Bottas] was ahead, but I couldn't really go to the right. I also wanted to go for the inside, but once I locked up, it was tough luck. After that, with the flat spot, it was a shame that I had to give the position to Sergio [Perez]."
Sebastian Vettel's race took a turn for the worse at the restart ?#AzerbaijanGP ?? #F1 pic.twitter.com/ldPuoEBHuY

— Formula 1 (@F1) April 29, 2018
"Apart from that, I think it was a very good race; we had a good pace and were in control. Anyway, this is how it goes sometimes. I had a chance to win and I tried. It just didn't work. It was a quick decision, so there was a chance it wouldn't be right. Now I think we need to look ahead because we had a strong car. We'll see what the other races will bring, but we need to stay hungry and keep working."
Vettel: I had a chance to win and I tried. It just didn't work
Kimi Raikkonen got hit in the chaos of the first lap but he was second at the chequered flag.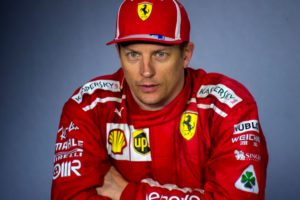 "It was not the easiest or most enjoyable race. After the accident with Esteban [Ocon] on the first lap, I had to come in to change the nose and switch to soft tyres. I don't know if my car was damaged, but overall the feeling was ok. The tires were not consistent, a bit on-and-off; I was struggling to keep them warm enough and had some difficult moments. Some laps they felt good and some others it was more tricky. After that, things went back to normal", the Finn said.
"I tried to stay out of trouble, pushing when it felt right to do so and do my own race. I was expecting something to happen sooner or later. It's never too late; you need to be ready because you never know what can happen until the race is finished. We are pretty confident for the future, because we have the speed, and this is the main thing. We just need to minimize all the mistakes and the issues to be up there all the time. I will happily take this second place, considering the tricky race we had."
So much drama ?

So much excitement ?

So much controversy ?

All in 60 crazy seconds ⏱#AzerbaijanGP #F1 pic.twitter.com/5uJ7BAbUxo

— Formula 1 (@F1) April 30, 2018