Ott Tanak secured a stunning victory on Rally Argentina: the Estonian's first win with the team in only his fifth event in the Toyota Yaris WRC. Tanak and co-driver Martin Järveoja were dominant after taking the lead on the first full day, winning 10 stages across Friday and Saturday before controlling their lead over notoriously tough stages on Sunday, finishing up 33.7 seconds clear of the competition.
"It is very special to take my first win with the team", Tanak commented
"We have been improving the car very quickly, and it is now pretty much how I like it. It has been giving me great confidence. It is also great to see how much the team has been supporting me. To dominate a rally like this for the first time is very nice, but it has definitely not been easy. Earlier in the weekend, I was pushing a lot. As the gap was growing it was possible for us to control it more and more, and at last, we were more on the safe side. The direction is good and we are closing up in the championship. It is still fairly early in the season, so now we just need to keep going in the same way in the coming rallies."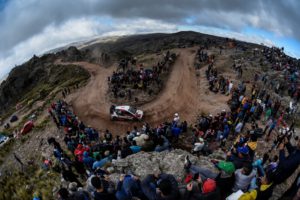 Esapekka Lappi completed his first Rally Argentina in eighth place
He was hampered by numerous punctures during the weekend, including another on Sunday's first stage that cost him two places in the numerous order. He also showed encouraging pace, however, on what is regarded as one of the toughest rounds of the championship.
"I can take home some positives from my first Rally Argentina. My speed was actually better than I was expecting on my first time here. It helped that we seemed to have the best car here: Ott controlled the whole rally, congratulations to him. We had many issues with punctures during the weekend and we need to investigate what was causing them. Although we had many things that caused us to lose time, we managed to do all the stages, and get the experience. This first part of the season was never going to be easy, with events I did not have enough experience on, but there have been positive moments and I will take this on to Portugal", Lappi explained.
Jari-Matti Latvala had to retire from the rally on Friday due to the damage caused by an impact with a rock, but he had already confirmed the impressive performance of the Yaris WRC.
One of the toughest event of the year is successfully over! ? Toyota Yaris WRC was the fastest car during the weekend with Ott and Martin.
? See more action of the final day from our Facebook page!#TOYOTA #YarisWRC #WRC #TGR_WRC #RallyArgentina pic.twitter.com/FPoEMWiEL1

— TGR_WRC (@TGR_WRC) April 29, 2018
Team Principal Tommi Mäkinen said the win was an absolutely fantastic result for Toyota
"Ott was so strong during the weekend. Of course, he took it a little steadier over the last day, but these last stages were so difficult and there was no point risking this fantastic win. It's his first win for us and it has come on one of the hardest rallies. Everybody has seen that our car can perform in these conditions and that it is strong enough. For us to be so strong together is something that we couldn't have dreamt of before. We have had some ups and downs so this win is really important. We knew that we have good performance in the car, and now finally we have a brilliant result for all the hard work that the team has put in. Now we hope to continue in the same direction."
Tanak and the Toyota team remain third in the drivers' and manufacturers' standings respectively but have both closed further on those in front.
SS18 El Condor (Power Stage – 16.43 km): @OttTanak WINS #RallyArgentina! ???

He takes his first win in the #YarisWRC after a dominant performance throughout the weekend, 37.7 seconds ahead of the rest. ?#WRC #TGR_WRC pic.twitter.com/AMvCQVAL1t

— TGR_WRC (@TGR_WRC) April 29, 2018