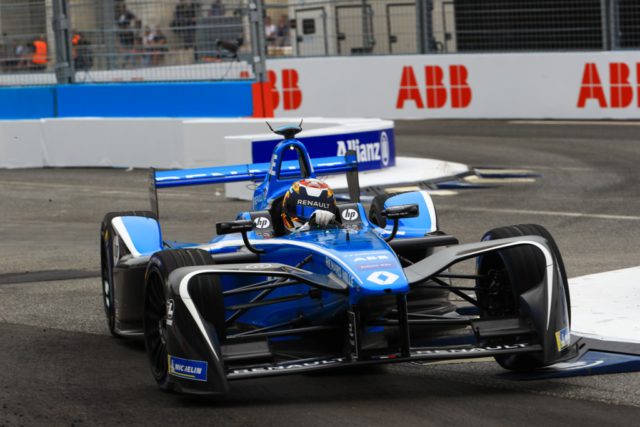 The first Rome ePrix enjoyed huge popular success, which was not the case for Renault e.dams as Sébastien Buemi and Nicolas Prost could only manage sixth and fourteenth-place finishes.
Buemi was one of the five drivers who qualified for the SuperPole shoot-out and he felt confident that he could do the job
But he missed a braking point on his flying lap and had to be content with fifth place on the grid.
When the lights went out the Swiss driver made a good start. In the first hairpin, he was unable to fend off Oliver Turvey who got past him on the outside and he came round in sixth place at the end of lap 1. He remained among the front-runners poised to take advantage of any openings and snatched fifth just before changing cars. His team carried out a flawless pit stop and he rejoined in third place behind Felix Rosenqvist and Sam Bird who had adopted the same strategy.
But the second stint proved to be a nightmare for Buemi who lost positions to drivers who had swapped cars a lap later. He was seventh with the finish in sight and managed to pull back a place on the last lap to see the chequered flag in sixth spot.
"It's a disappointing result. I felt that the car was handling well and I was only five seconds behind Bird after the first stint. But we consumed too much energy and we have to find out what didn't work. We haven't yet analysed the data, but I hope that we're going to find something abnormal to explain why", Buemi commented.
It was great to have @fia President @JeanTodt with us today! #ABBFormulaE #RomeEprix pic.twitter.com/isv2UmzWaI

— RENAULT e.dams (@RENAULTedams) April 14, 2018
Nicolas Prost was also among the leaders in free practice
But his car lacked grip in his qualifying group. He was fifteenth on the grid and gained a place on the first lap.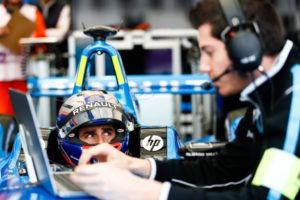 Nico drove a good stint found himself in 12th place after the drivers had changed cars. He fought his way up to tenth, but he then had to cope with a lack of energy in the closing laps and crossed the finishing line in 14th position.
"The day got off to a promising start and I felt confident. Qualifying turned out to be difficult as I had to cope with a lot of oversteer. In the race, I had problems managing energy and that made things very complicated. It was one of our strengths last year and we have to keep on thinking and working together to return to our optimum level in Paris. Obviously, these results are not in keeping with our expectations", Prost explained.
Renault e.dams left Rome in sixth place in the teams' championship with 67 points. In the drivers' ratings, Buemi is still lying fourth with 60 points
"Our results are a bit disappointing. We obviously chose the right strategy, exactly the same as the future winner's. But the latter didn't have to keep drivers behind him in the way Seb did: maybe that explains the gap at the finish. What's sure is that we consumed too much energy to be able to hold off the drivers who had to cover a lap less in the second stint. The engineers are going to analyse all the data to find out what went wrong", co-owner of the team Jean-Paul Driot added.
The next round of the FIA Formula E Championship will take place on Renault's home turf. On 28th April, the electrically-powered single-seaters will be back on the Invalides circuit laid out in the heart of Paris.
We're just leaving #RomeEPrix but we are already focussed for our home race #ParisEPrix next week! pic.twitter.com/jMEKGupQh0

— RENAULT e.dams (@RENAULTedams) April 17, 2018